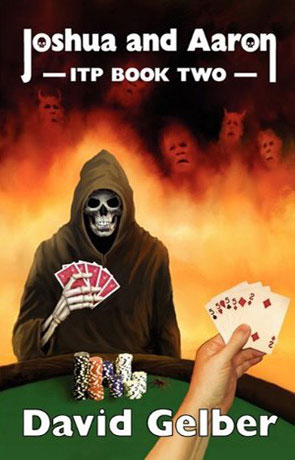 Book details
Joshua and Aaron

Publisher:

ISBN:

Published:

May 2010

Pages:

396

Format reviewed:

Hardback

Review date:

06/08/2010

Language:

English

Age Range:

N/A
About the author
Joshua and Aaron is the second volume in the ITP series, following on from the events of Future Hope, written by David Gelber.

It is the the year 2163 and 7 years have passed since David Sanders fated voyage through the ITP to another world. Joshua Smith shuns society and instead spends his time watching the horse races, carefully picking the winners and generally trying to forget his past. However he tries though he cannot completely forget the shocking events that surround his encounter with the sinister Richard Cosby, henchman to the evil Aaron Diblonski. He is constantly on edge, awaiting the revenge attack that he is sure will take place.

His seclusion is brought to an abrupt end with the arrival of Geoffrey O'Donnel (G.O.D. for short) who arrives just in time to save Joshua from an attempt on his life. The arrival of O'Donnel isn't without it's own problems though and before long Joshua finds himself once again thrust into a battle of good versus evil, with mankind's fate in the balance. Facing the greatest challenge of his life will he find a way to save mankind or will they become enslaved forever?.

Joshua and Aaron is best classed as religious fiction as it's running themes involve the battle of good versus evil / God versus the devil. The story is however told in a very intelligent manner and should appeal to agnostics and athiests as well as those with a religious belief, it's simply a good story told well.

The characters are very likeable and well described and the plot moves pretty fast and manages to hold the readers interest very well. The writing style is pleasant and easy to follow while the character interaction is excellent.

An imaginative story, told in a comfortable, easy manner and yet dealing with very weighty topics, Joshua and Aaron is a rewarding tale of good versus evil that should please any fan of science fiction.
Written on 6th August 2010 by Ant .
You may also like