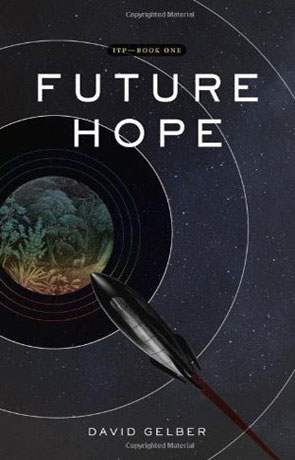 Book details
Future Hope

Publisher:

ISBN:

Published:

November 2008

Pages:

350

Format reviewed:

Hardback

Review date:

01/12/2008

Language:

English

Age Range:

N/A
About the author
Future Hope is a science fiction novel written by David Gelber.

The novel is set in the year 2156 and the Earth is getting a pretty crowded place. While many of the social and economic problems have been eradicated - along with most illnesses, new problems have taken their place. Principal amongst these are the strains on resources a long-living healthy population is demanding, along with a large overpopulation problem.

When a breakthrough in interstellar travel is uncovered many see the chance to find other planets that would be fit to colonise. Major David Sanders is Earths very best astropilot and is chosen to be the first person to travel though the ITP (Interdimensional Transport Protocol) and visit a distant solar system. This first manned mission goes wrong however and David Sanders crash lands on another planet with little hope of escape.

The novel itself shows a good amount of world building however the prose is very well written and the style fairly easy going. There is a strong descriptive element which outlines a vision of the future which is quite plausible. As with many of the late great Robert Heinleins' novels, this future is one of longevity, lack of disease and illness where most menial tasks are performed by technological advancements and many social factors have changed. There are a number of genuinely original and thought provoking ideas here within the story and it would be interesting to see how they develop further.

The main characters are intriguing but the central protagonist does remain somewhat aloof and is someone I had difficulty in bonding with. The underlying theme here is one of humanities over reliance on technology along with a general decline in religion and personal faith. Future Hope is an exciting novel full of intelligent ideas which are thoughtfully laid out and promises even greater things to come in the next novel of the series.
Written on 1st December 2008 by Ant .
You may also like