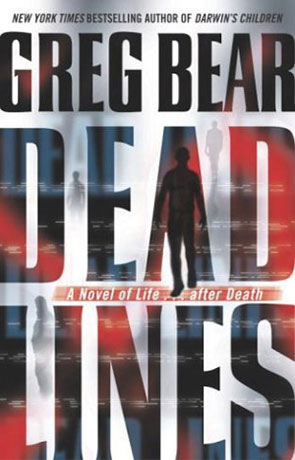 Book details
Dead Lines

Publisher:

ISBN:

Published:

2004

Pages:

304

Format reviewed:

Paperback

Review date:

25/04/2004

Language:

English

Age Range:

N/A
About the author
Dead Lines is a science fiction horror novel by Greg Bear.

Peter Russell's life turned out much different than he expected. He wanted to write books but instead made a living taking picture and making movies of naked people when the soft porn industry flat-lined. Now he is a little more than an errand boy for movie producer and real estate executive Joseph Benoliel, dependant on him for cash. A consortium is trying to get Joseph to invest in Trans, a wireless telephone that uses a broad bandwidth so that people can communicate with each other almost instantaneously.

The people making the Trans are giving them away as a promotional gimmick and folks all over the world have one. The transponder that is heart of the Trans is located in the bowels of San Andrea Prison. The investors of the new means of communication didn't know that it interferes with the ghosts of the dead moving on. Earth is populated with ghosts and nobody knows how to get rid of them except Peter.

Fans of Peter Straub and Stephen King will love this old fashioned ghost story. From the very beginning of DEAD LINES, there is a sense of foreboding and of anticipation as readers wait for events to reveal themselves. Some might think that the protagonist wasted his life but in reality he experienced life as few people can and accepts the consequences. Greg Bear has written a horror novel that has the audience keeping the lights on at night to keep the ghosts away.
Written on 25th April 2004 by TC .
You may also like