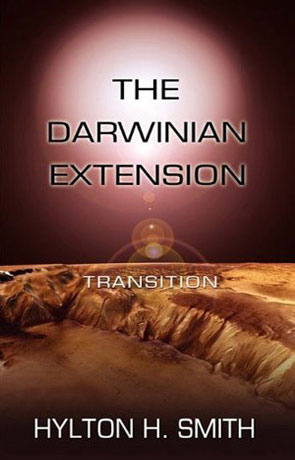 Book details
The Darwinian Extension: Transition

Series:

The Darwinian Extension

Publisher:

ISBN:

Published:

November 2009

Pages:

260

Format reviewed:

Paperback

Review date:

20/01/2010

Language:

English

Age Range:

N/A
Books in the series
About the author
The Darwinian Extension: Transition is the second volume in the science fiction trilogy from author Hylton H Smith, and follows on from the events in Initiation.

Transition begins in the year 2038, 2 years have passed since the return of the Copernicus, the ship carrying the first Mars colonisation mission. Their return has caused a massive religious and political upheaval but has also brought with it massive leaps in technological development.

Alex 2 advises that the way of the Progenitors is to offer encouragement of promise rather than a proactive assistance of development. He did however suggest that humanity would not survive in their present process of biological evolution when the sun goes supernova.

Eventually a new political structure is developed, departing from the consumerism and commercialism of previous governments, as part of this new development Alex 2 is made Honorary leader of the new Council for Human Exploration, due to his vast knowledge and near immortality.

Despite this fledgling new government, there is still a large amount of friction between the Earth and Mars colony which is then thrown into chaos when a second discovery is made on Mars. A new life form known as the Rabo is unearthed, and after more is known about this new alien species a very disturbing message is returned to Earth.

Has the human race evolved sufficiently to live along side an alien race?, the answer may secure the colony of Mars and beyond.

The Darwinian Extension: Transition, like it's predecessor, is a very in-depth science fiction novel that is technically very accomplished. The science is very believable and not really that far from current understanding or technological achievement. The Alien technology is obviously further advanced but even this is explained very clearly and concisely.

Transition improves upon Initiation, the character development is clearer and more defined and the plot easier to relate to. Again this novel is for those who want a "real" or "hard" science fiction novel rather than a lighter reading speculative fiction story but again this really is no negative. There are many books that don't really push the boundaries with the science fiction aspects of their novels, but this series does and should be applauded for such. Recommended for anyone who wants to read true science fiction.
Written on 20th January 2010 by Ant .
You may also like