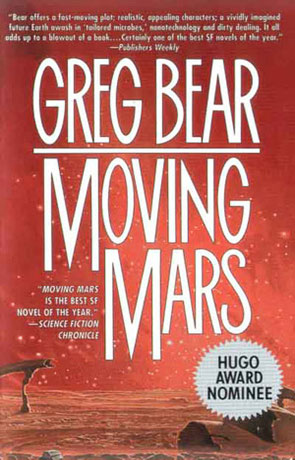 Book details
Moving Mars

Publisher:

ISBN:

Published:

1993

Pages:

448

Format reviewed:

Paperback

Review date:

28/03/2002

Language:

English

Age Range:

N/A
About the author
Moving Mars is a science fiction novel by the award winning author Greg Bear.

I nearly stopped reading this book around page fifty. Seldom had I been so bored and seldom had I felt so little sympathy for a lead character. Seldom have I been so happy that I hang on to it, but more about that later.

Martian born and raised Casseia Majumdar tells that story of Moving Mars and starts when she and a bunch of follow students are voided from University of Mars, where she's a student. They fight for their rights and starts a small rebellion. They fail. She meets a young man and she tries to find her own standing place in the world. Mean while the novel approaches page number one hundred and the boredom reaches a new high. The next hundred and fifty pages are better. Casseia had finally found her calling and so has the story, we are finally going places. The last half of this 500 pages novel is some of the best writing that I've read in a long time.

In the end I was totally emerged and I really felt for Casseia (who I actually started off disliking!), I actually felt like crying for her a few times. Who would ever have thought that of a Bear novel? But the thing is, the first part was still really boring. I know that Bear is using this part to build the characters and the background, and part of the reason that the last half of the novel is so strong is that we know the characters so well. But I still think that it could have been less boring.

There's also a lot of interesting science in the last half of the book and the descriptions of Mars are as wonderful as one could wish. All in all; if you can get through the first hundred pages without going into a coma, you are in for treat.
Written on 28th March 2002 by TC .
You may also like