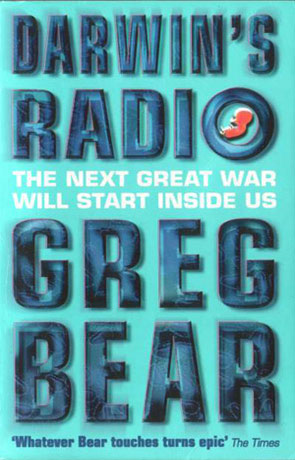 Book details
Darwins Radio

Publisher:

ISBN:

Published:

1999

Pages:

448

Format reviewed:

Paperback

Review date:

01/06/2000

Language:

English

Age Range:

N/A
About the author
Darwins Radio is a science fiction novel by Greg Bear.

Just the title alone should give you a good idea as to the subject of this book. Yes, Bear has returned to genetics and luckily Darwin's Radio is a lot better than Blood Music (not that hard). Christopher Dicken finds a mass grave with mutated pregnant women, side by side with their also mutated husbands. Kaye Lang finds something strange in our so-called "junk-DNA", something that is becoming activated. Mitch Rafelson finds evidence that it has all happened before. Together they have to solve probably the biggest change in human history! Damn! I'm sounding like an advertisement… anyway, they have quite a task ahead of them, and Greg Bear doesn't leave them much time to rest.

More character work on Bears part, coupled with some far out, yet interesting science, makes this book hard to put down (there I'm sounding like an ad again!). The characters actually have personality flaws and some of them are annoying at times - actually a couple of them are annoying all the time. But Bear manages them beautifully and I actually ended up believing that people like that, could exist somewhere on this earth (which is a first for all the main characters in a Bear story).
Written on 1st June 2000 by TC .
You may also like