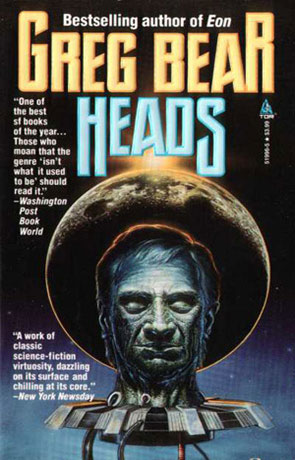 Book details
Heads

Publisher:

ISBN:

Published:

Pages:

125

Format reviewed:

Paperback

Review date:

01/04/2001

Language:

English
About the author
Heads is a science fiction novel, written by Greg Bear.

A hundred years in the future, Michael Sandoval is the manager at Ice Pit Station – a research station on the Moon. Two projects are taking place here. His brother in-law is trying to reach absolute zero in a small piece of copper. His sister is trying to wring memories from four hundred and ten frozen heads. The first one is on the border of known physics; the second one is crossing several ethical and political borders. In the political upheaval of the Heads a cult is trying to take control of the free Moon.

Short, sweet and to the point, Bear tells a cute little story in less than a hundred and fifty pages. A book for one of those days where a short story just isn't enough and a full-length novel is too much.
Written on 1st April 2001 by TC .
You may also like