Night Train
By David Quantick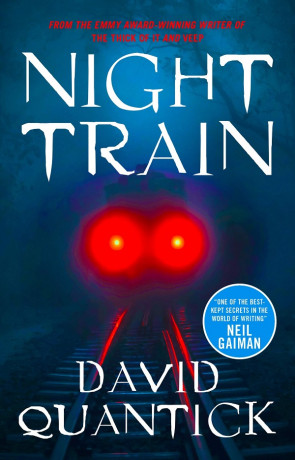 Book details
Night Train

Publisher:

ISBN:

9781785658594

Published:

July 2020

Pages:

320

Format reviewed:

E-Book

Review date:

26/08/2020

Language:

English
About the author
I am not a big fan of train travel. The route I take is usually into London on a packed train. I have been made to suffer by standing all the way and having no access to the toilets. I have considered putting this into prose form in a science fiction thriller but needing the loo and having sore feet for 25 minutes does not an epic make. I will leave that to David Quantick and his Night Train, a book that puts your worst public transport horrors into perspective. That is unless you have had to fight genetically altered creatures and avoid poisonous gas that makes your skin melt last time you caught the Number 16 bus.
A woman wakes up in a pitch-black room. She is thrown from side to side as if the room itself is moving. This person comes to be known as Garland. With no real memory of what has gone on before she finds herself trapped on a train that is perpetually moving. Each carriage is different, some contain lush foods, others feature fierce creatures and traps. On her journey to the front of the train, Garland will meet both allies and enemies, but will she ever find out who she is and why she is trapped?
Having read Quantick's excellent All My Colors I felt that I had an idea of what type of author he was. He brought great literacy skill to a strange horror title. Night Train repeats this but adds dystopian science fiction into the mixer. The book has tones of 1984 and Terry Gilliam's bureaucratic horror futures such as 12 Monkeys and Brazil. Quantick appears to be one of those rare authors who can produce standalone titles that are not like their previous work and there is not much that is quite like Night Train around.
Having a main character with amnesia meeting other characters who have a similar affliction leaves the reader at a disadvantage. The book reminded me of a classic Twilight Zone episode, you arrive in a strange place and must pay close attention to your surroundings. The world is slowly revealed by the characters dialogue and some very interesting inserts that explore what they were doing before arriving on the train. You never get a full sense of exactly what has happened on this future Earth, but the book benefits greatly from the opaque nature of what exists beyond the windows of the train.
Garland is one of three central characters and they all provide a fantastic broken experience to the book. We join them in their present only to learn more about their past. There is a dark comedic twist to the way that Quantick writes. This is required with these characters as the book could have been very bleak. Instead there is an intriguing and surrealist bent to proceedings.
Along with the odd goings on, this book contains a fair few action sequences that make sure the pace never dips. The train itself plays a vital part in keeping the tension high. The very nature of being compartmental means that you never know what will be through the next door. You now have horror elements added to the dystopian science fiction fun. There is something for everyone in Night Train, especially for those looking for a thrilling dystopian science fiction horror with darkly comedic elements and surrealist bent. You are unlikely read anything quite like it for a while.
You may also like