Ricky's Hand
By David Quantick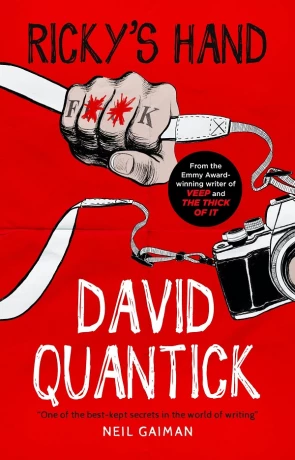 Book details
Ricky's Hand

ISBN:

9781803360461

Published:

August 2022

Pages:

304

Format reviewed:

E-Book

Review date:

01/09/2022

Language:

English
About the author
I love science fiction, but it can sometimes be hard to relate to the characters if they are flying spaceships in far off galaxies. Sometimes it is nice to read something a little closer to home, bizarre things happening to normal people. David Quantick's Ricky's Hand is a twisted Twilight Zone episode of a novel about a series of people who wake up one morning with a different body part. The problem is that no one believes them.
Ricky is an aging Paparazzi who spends too much time drinking and stalking celebrities. He would be the first to admit that he is not a nice person, but even he should be believed if he says that his hand is not his own. This new hand is too hairy and big, and the rude tattoo was not something Ricky got. A select few people are suffering the same condition and they meet up in a support group, but the leader of the group may not be telling the truth.
Quantick specialises in an uneasy style of speculative fiction that feels like a sci fi Chuck Palaniuk. You never know what is going to happen, but you know it will be an odd ride. Ricky is more in the vein of the excellent All My Colors, but a nice Easter Egg suggests that it is in the same universe as the forward-thinking Night Train. What you have here is a thought exercise played out logically by an intelligent writer who likes to push things to the edge. What would you do if you woke up with someone else's hand?
At first Quantick follows what we would all do; freak out and see a doctor. After this, things begin to become a little stranger and eventually full-on crazy. I loved the way that the book developed from a slight twist of fate to full blown science fiction concepts. The various escalations in the book come as a surprise as Quantick never forgets to write a coherent story.
It is the characters who keep proceedings grounded. Ricky himself is unfit and grubby, the other members of the support group take an instant dislike to him, but they must become uneasy allies. One fellow victim is Scala, a former child actor turned pop princess. She decides to trust Ricky and together they use his network of seedy contacts to try and unearth what is happening. The book becomes a comedic crime caper, but there is also plenty of science fiction as well.
Ricky is a hard book to pigeonhole as it hides its supernatural elements under the comedy and character development. When you do start to learn more about what is happening it feels even more fantastical because the rest of the book is so grounded in the dull life of Ricky. This is what makes the beats so much fun. You never know what is going to happen. Having someone like Quantick writing genre fiction is a joy as there are few voices deranged and as sly as this.
You may also like