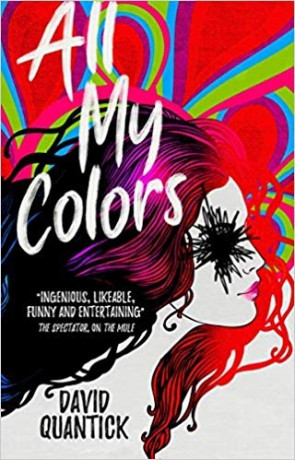 Book details
All My Colors

Publisher:

ISBN:

9781785658570

Published:

April 2019

Pages:

304

Format reviewed:

Paperback

Review date:

22/05/2019

Language:

English
About the author
There is no such thing as déjà vu, it is just your mind failing to process things properly. Even so, one day I was reading a book and was struck with a fearful sense of déjà vu. I could almost see what was going to happen next, it was unsettling. Was this a supernatural event? Had I gained super powers? Nope, turns out I had read the book ten years previously and forgotten. This is not a problem for Todd Milstead who has an eidetic memory so the book he is remembering should exist somewhere. But it does not.
There is not a huge amount to do in small town America in the late 70s except sit around using your photographic memory to be an arrogant jerk. This is how Todd lives his life anyway. With no job, Todd considers himself an author, just with nothing in print. He live off his wife, drinks and has affairs. Not a nice man, but fate does not care if you are good. One day Todd remembers a book called All My Colors that no one else seems to have heard of or is in any shops. With the ability to write it word for word from memory, could this be the bestseller he has hoped for?
All My Colors by David Quantick is a triumph of time and place transporting your to late 70s America instantly. It is just a great period piece, Todd is not a likable character, but he is the perfect introduction to his own version of a jaded Americana. On this level alone the book is an interesting read, but there is a Twilight Zone twist. Where has the idea of All My Colors come from? Has Todd stolen it from someone else or has it popped into his head by divine intervention?
One of the best things about this book is that Todd often does not care where his ideas come from. As a selfish bloke he is used to sailing through life. If a best seller if going to enter his brain, he is not going to over examine it. This being a darker book, ignorance is no defence. Events begin to conspire that suggest that Todd may have made an unwitting deal with something that he cannot escape.
Quantick is an accomplished writer in many fields and this is reflected in Colors. A pure horror or fantasy writer may have played up the dark elements of the book, Quantick does not. He is more interested in a character study of Todd and the supernatural is almost just another part of this. Some of the most enjoyable parts of the story are about following a debut author as they chase success. I could have read more of Todd's book signing tour without the need of any nagging horrors.
The fact that things do begin to unravel is necessary and it makes the conclusion of the book great entertainment. Colors goes from a small town setting to concepts that would blow the minds of the characters had they known where the journey would lead. In many ways this is some of the best type of horror/fantasy/science fiction writing. Quantick does not write an overblown story, but a quiet one that just happens to have twisted concepts. A great read for the wonderfully well-developed sense of 1979 America, but a must read for genre fans who like their horrors told subtlety.
You may also like