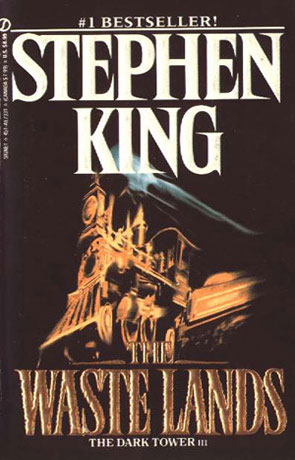 Book details
The Waste Lands

Series:

The Dark Tower

Publisher:

ISBN:

9780340829776

Published:

August 1991

Pages:

624

Format reviewed:

Paperback

Review date:

15/10/2000

Language:

English

Age Range:

N/A
Books in the series
Song of Susannah
The Dark Tower
About the author
Do not read this review if you haven't read The Gunslinger and The Drawing of The Three. Turn off your computer and start reading. If you don't have these books run to your nearest bookstore and get them!
Continuing where The Drawing of the Three ended, The Waste Lands takes us through the forest and to the city of Lud. It may seem impossible, but I actually liked most of this book better than I liked The Drawing of the Three. Some of the atmosphere from the first book is back and the tale of Detta's and Eddie's transformations to gunslingers, are very interesting and the tightening feeling of karma (or Ka as Roland calls it) is really gripping.
The first part of this book tells a lot about our fellow travellers and the world they travel in - if the first two books left you with a feeling of wonder, you will probably be unable to put down this book for the first three or four hundred pages. They will not leave you an expert about Roland's world but it will leave you with a good feel for it and maybe with a glimmering of a start of the answer to the big "why?".
The rest of the book takes place in the city of Lud - I'm not crazy about this part of the book (except the very end). There's nothing really wrong with it, but I can't see how it relates to big picture, but knowing King most of it's probably important. Only time will tell....
And again we move closer to the Dark Tower!
Written on 15th October 2000 by TC .
You may also like