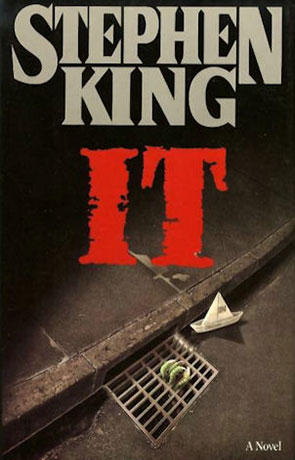 Book details
IT

Publisher:

ISBN:

978-1444707861

Published:

September 1986

Pages:

1392

Format reviewed:

Paperback

Review date:

27/08/2014

Language:

English
About the author
Probably one of the best King books ever written. No that isn't the review although if it was that would still sum the book up pretty easily. So great I've now read it four times, although admittedly never as fast as that first hungry initial reading. With every read, certain elements jump out at you that maybe were just part of the story in a previous read. Whether that is down to our own experiences and fears changing as we grow older or down to King's ability to write a story so well with a richness that we don't appreciate until a further reading I'm not sure, what I do know though is this is a book that will always grow with you and fascinate you with each and every read.
Many of you may have already read the book once, maybe many years ago. Read it again now. You will be glad you did Constant Reader. Many of you may have seen the movie. Yeah it was ok, with some really good scenes but aside from telling the story it can no way invoke in you all the emotions the book unleashes. It has everything. It instils fear, has sofa gripping moments, makes you laugh, makes you cry. It is an epic coming in at over 1100 pages, but each one excellently written and vital to moving the story forward. There are passages of history within the book that continue to immerse you in the story, engulfing you into actually feeling you were there at some point during the proceedings.
A masterpiece? Definitely. This book is up there with some of King's other finest works such as The Stand, The Shining, Salem's Lot and The Dark Tower series. It is a story of childhood, bonding, friendship and imagination.
The story starts with the horrific murder of George Denborough, killed by a clown in a storm drain. Other child murders throughout the quiet sleepy town of Derry become apparent and Bill, George's big brother, and a group of his friends get together to discover the source of the murders and do something to stop it. I could write and write concerning this book, until I too had covered as many pages as the book itself but I won't. If I did continue I would ruin the story itself and also I still wouldn't be able to give the book the justice it deserves.
An awesome book from an awesome author. The biggest story with the smallest title. A title that really does sum up the book.
5 out of 5, and that is being modest.
Written on 27th August 2014 by Arron .
You may also like