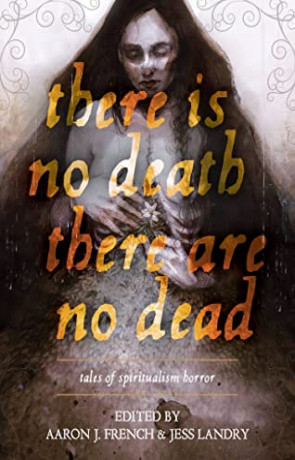 Book details
There Is No Death, There Are No Dead

Publisher:

Crystal Lake Publishing

ISBN:

978-1737721840

Published:

August 2021

Pages:

322

Format reviewed:

E-Book

Review date:

07/10/2021

Language:

English
The present book, featuring twenty-four stories ( twenty-three of which are brand new) addresses the subject of the fragile, thin link between life and death and of how the dead are closer to us than we care to believe.
As in every theme anthology, some issues tend to recur - although in different shades according to the authors' different sensitivity - so every now and then a certain repetitiveness emerges which might disturb some reader.
In particular, true( or fake) psychics abund and séances take place in several of the included tales.
Yet, some of the best stories therein revolve just around that specific theme.
In the quite enjoyable " A Feather for Mrs. Edmond" by David Demchuck during a weird séance a six year-old boy endowed with psychic abilities manages to punish a widow for her sins, while in the excellent " Meeting Katie King" by Lisa Morton the question if séances can be reliable or just mere hoaxes is addressed by depicting the unnerving experience of a skeptical journalist.
A different take on the possibility to contact the dead and to discover the truth behind a haunting presence in the house is provided by Michelle Belanger in " The Shape of Her Soul", graced by an unexpected twist in the tail.
Other winners are "The Marble Lily" by Kahe Koja, the disquieting, intriguing dairy of a Morgue janitor obsessed with the mystery of a young girl's corpse apparently immune from the decay of death and " The One Word I Can't Say" by SP Miskowski where a woman gets finally rid of the obnoxious ghost of her dead sister.
All in all an entertaining anthology which will please horror fans.
Written on 7th October 2021 by Mario Guslandi.
You may also like