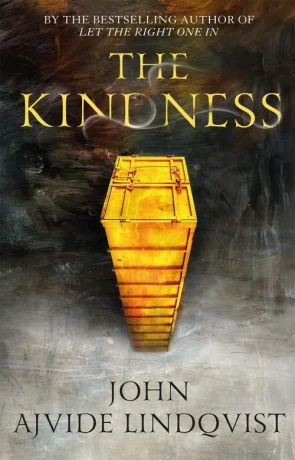 Book details
The Kindness

Author:

John Ajvide Lindqvist

ISBN:

9781529419078

Published:

August 2023

Pages:

805

Format reviewed:

Hardback

Review date:

18/08/2023

Language:

English
I like to think that the world is built upon small acts of kindness. Whilst nation states and some individuals may be doing their best to destroy the world, the rest of us are just trying to get by. This can be helped with a please or a thank you. If you see someone drop their credit card, you would tell them to pick it up. What would happen if these small kindnesses stopped, if people became not only rude, but angry? John Ajvide Lindqvist explores this in The Kindness and gives up a glimpse into the very normal lives of some people with extraordinary powers.
The Swedish shipping port of Norrtalje is nondescript, many of the people living there have known nothing else and have not escaped to the big city. Not a lot happens, but when a mysterious shipping container is dumped a presence starts to make itself felt. What is in the container? Once the locals open it, they wish they never knew. Max, Siw and their friends find themselves living in a summer of change, for themselves and for the people of Norrtalje.
The first novel that comes to mind with Lindqvist is the breakout novel Let the Right One In, a story about vampires, but that is not what the book is about. Kindness follows the same trend. If the book was hard horror, it would be about a malevolent creature unleashed once the container is opened. This does happen, but it is a far slower process than this, as the 800 pages attest. The thing does not go on a killing spree but starts off by twisting the minds of people. Small acts of kindness are replaced with small acts of petulance. Things become more dangerous as the petulance turns to anger.
There are moments of horror in the book, especially when you discover the contents of the container and the history behind it, but that is not the main thrust of the book. Instead, it is a character piece about six friends who find themselves over the same period that the container is beached. All of them have lived in Norrtalje as children, some stayed, others moved away and came back again. Now they all find themselves at a crossroads in their late 20s, what does life mean for them now?
The six characters all interact with one another in some manner. They learn to love and loath each other. To add depth Lindqvist adds flashbacks to discover how they were as children, or what happened when they were away. There are parallels between what is happening in the town and the characters' lives. Will they choose to embrace fear or kindness?
The book could be read as a straight literature book, but there are supernatural elements. Many of the characters have some sort of ability to sense the future. In a town where all chaos is about to break out, this is a useful skill, but also a burden. These are very normal people and Lindqvist never attempts to make them heroes. For years Max has hidden from his visions and Siw has no clue what to do with hers.
At over 800 pages this is a slow burn that never breaks into full horror. Instead, it is a wonderful tale about friendship and relationships, told with a background of unease. The characters are never dominated by proceedings until the final acts. It reminded me of a slower version of Dean Koontz's Odd Thomas stories. The sense of gentle storytelling, but with a malevolence in the background. I very much enjoyed being in the company of six friends in a small Swedish town, the supernatural and horror elements were just a bonus.
You may also like