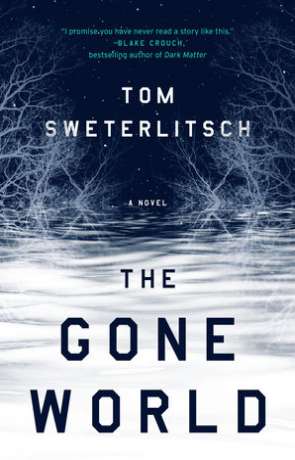 Book details
The Gone World

Publisher:

ISBN:

978-1472214980

Published:

February 2018

Pages:

400

Format reviewed:

Paperback

Review date:

06/02/2018

Language:

English
This Christmas a member of the family introduced me to NCIS. For those who have yet to discover this long-running US-based TV show it's a police-procedural series that follows the Naval Criminal Investigation Service. Until this time I hadn't even known such an organisation existed, not to mention the fact that most of the show seems to be based on land, not sea.
Why do I mention this? Coincidentally one of the first books I pick up after watching this show is The Gone World. A book that features none-other than the NCIS, investigating a murder of a Navy Seal's family while trying to locate a missing girl of the same family. Special agent Shannon Moss is the member of a top secret department within the NCIS, a department that explores space and travels through time. Time and space travel is handled through ships launched from a base on the dark side of the moon.
There is a bigger problem though and that's a white hole appearing above the Earth in humanities near future, an event (known as Terminus) that puts an end to the human race. What's worse is that this cataclysmic event seems to be moving backwards through time towards the relative present of 1997.
It comes as no real surprise to learn that The Gone World has already been optioned to be turned into a film - directed by Neil Blomkamp. The style of the book is a fast-paced thriller with science fiction elements and one that's easy to imagine on the big screen.
It's quite dark in nature, apart from the inevitable looming destruction of mankind, ex-astronaut Moss has been through things that would make your hair curl. We get treated to graphic descriptions of some of these events along with a few murders that keep the gritty, dirty, bleak tone throughout. The secret NCIS department use the future as a tool to figure out who the perperators of crimes are. While we've seen this before (most famously in minority reports) here, given the magnitude of such a technology it seems a bit of a misuse really, like using a $1 million robot to open tin cans.
Characterisation is good, I especially liked the fact that the book features a protagonist with a disability, although descriptions of said disablity are a bit heavy-handed in places (we don't really need to know every time Moss takes her leg off).
There are some clever ideas here and for the most part it's thought-provoking and entertaining in equal measure. The way the future is presented, as one possibility of many, is good, solid theory and the author describes it in remarkable clarity.
It all gets a bit confusing and muddled near the end though and leaves more questions than it answers. It attempts to come across as a police procedural but idoesn't quite pull it off, instead reading like a thriller with some mind-bending science fiction ideas.
The Gone World is compelling for the most part. The character of Moss shines through, the story is engaging and there are some great ideas thrown around. An immersive, fast and thoughtful thriller.
Written on 6th February 2018 by Ant .
You may also like