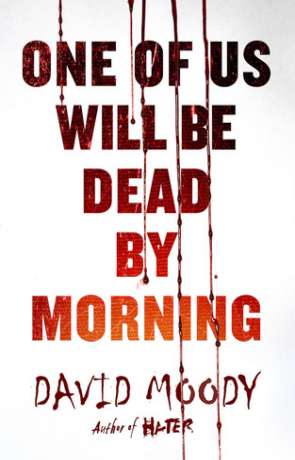 Book details
One of us will be dead by morning

Publisher:

ISBN:

978-1250108418

Published:

May 2018

Pages:

336

Format reviewed:

Paperback

Review date:

07/05/2018

Language:

English

Age Range:

15-
About the author
One of us will be dead by morning. Fifteen people trapped on Skek, a small, barren island in the middle of the North Sea between the coasts of Denmark and the UK. Skek is the home of the extreme sports company Hazelton Adventure Experiences, who specialise in corporate team building in an environment without distraction.
Life on Skek is tough, one slip on a rock is all it takes. That's all it took for Vanessa to die - a momentary lapse, a push by her fellow colleague and her body lies broken on rocks by the sea. One accident is easy to account for, but then the bodies begin piling up and questions are asked. Are these really accidents? do you really know those people around you? Do you really trust them? Could you be their next victim?
Then a horrific discovery changes everything. There is no way home, everyone is stuck - and the murders continue.
One of us will be dead by morning is the first in a new series that parallels the authors much loved "Hater" series where people begin to exhibit extreme agression and become little more than murderous animals. It's a clever move to begin again right from the start of Hater, but from a totally different perspective - the isolated group being the ideal vehicle to explore the Hater phenomenon and it's effects on a closed community.
You don't have to have read the author's first Hater series to enjoy this book, given that this series runs in parallel there isn't any prior knowledge needed. The author has however included a timeline of the two Hater series on his website for those who are interested.
One of the things that I really like about the authors books is the way that the protagonists react to the situations around them. They don't behave like the unaware victims that you find in many stories - these people are aware of the situation around them and react convincingly with memorable lines such as:
It's just that this sounds like the start of a shitty zombie movie, that's all. It sounds fucking stupid, if I'm honest.
and:
You're running an extreme-sports center in the middle of the bloody ocean, and you don't have a viable escape route?
The story is solid, there is something strange happening on the mainland and people are going batshit crazy, suffering from extremely violent outbursts (almost as if they've been reading Trumps twitter feed or something). Of course this crazy infects the island but there doesn't seem to be any way of predicting who is going to be affected. As a result we get this close, claustrophobic situation of all these people trapped in a few buildings on a remote island just waiting to see who goes off the rails next. It's got real tension and an atmosphere you could almost reach out and touch. The author is a master at building up suspense and then unleashing the horror that shocks you even when you are fully prepared for it.
The characters are all well-drawn, as mentioned above they react in believe-able ways to the situations around them. The author doesn't coddle the reader and explain why they are reacting the way they do or what their underlying motives are. Are they acting like that under the stress and strain of the situation or is there some ulterior motive to their actions? The author plays on these issues of trust to great effect.
One of us will be dead by morning is an insightful, rewarding look at physical and social isolation, trust and reaction to adversity when the flight part of "fight or flight" is taken away. It's clever, convincing fiction, claustrophobic fiction.
Written on 7th May 2018 by Ant .
You may also like