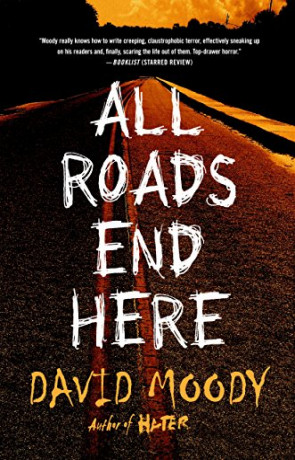 Book details
All Roads End Here

Publisher:

ISBN:

978-1250206275

Published:

March 2019

Pages:

352

Format reviewed:

Paperback

Review date:

25/07/2019

Language:

English
About the author
David Moody has been writing his Hater series (which has been optioned for a film by Universal Studios) since 2006, originally with the books Hater, Dog Blood and Them or Us. Then in 2017 he started from the beginning of the story again but from a totally different perspective with One of Us Will Be Dead by Morning. Instead of survival in a sprawling urban environment, One of us showed us how people could survive (or not) the outbreak of the hater virus while trapped on a small island in the middle of the North Sea, creating a much more claustrophobic and personal story as a result. Given that this book continues events from the previous, naturally spoilers will exist so if you plan on reading One of us, best not read any further.
All roads end here continues the journey from the viewpoint of survivor Matthew Dunne. It's taken him three months to get home to his wife from his "team building" adventure on the island of Skek. His city has become an over-crowded, walled refugee camp and his appearance after such a long time moving through hater infested England has raised suspicions in some. On the flip-side his experience in predicting and evading haters could prove invaluable to the cities defence team. He joins up with a team who go out past the defences and into the hater wild but soon discovers that it isn't just the haters who are dangerous.
This is a strong follow-up to a good book. It's interesting how the author moves the story forward and offering a fresh perspective while still running parallel to the first Hater story. Those who have read the previous series will have a good idea of whats coming up, but this knowledge doesn't hinder the book or prevent the reader enjoying the new series.
One of the things Moody excels at is writing convincing characters, especially their weaknesses, psychological challenges and little idioms. He really does pay attention to the little details, and it shows. His characters are never the square-jawed hero's who charge into battle against impossible odds, but each make realistic and plausible choices. When combined with the way he imparts a gritty reality into the unreal elements this creates some immersive and relatable fiction that offers greater shocks when something bad happens.
In my opinion, Moody is right up there with the best authors writting horror fiction today - his work has a unique tone and in All roads ends here has taken advantage of this voice to great effect. Highly recommended.
Written on 25th July 2019 by Ant .
You may also like