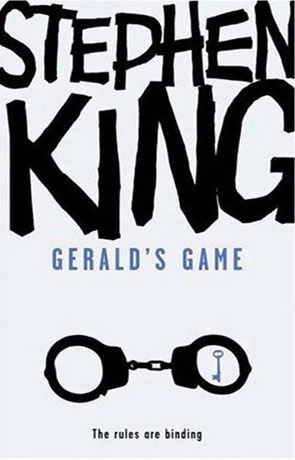 Book details
Geralds Game

Publisher:

ISBN:

Published:

Pages:

432

Format reviewed:

Paperback

Review date:

14/10/1999

Language:

English
About the author
Geralds Game is a novel by the master of Horror, Stephen King.

This is the first Stephen King book (please notice that I wrote book and not story) I have read that really doesn't have anything supernatural in it. Not that I missed it, GG is still a terrific story.

The story starts off with Jessie and Gerald, having just arrived at their summer cottage and getting ready to play one of Gerald's sex games (mostly consisting of Gerald cuffing Jessie to the bed), it's out of season and there's no one else around to hear them playing their games. Well it starts out fine, but laying there cuffed to the bed, Jessie decides that this isn't her game - it's Geralds' Game and she wants out. But Gerald isn't buying it and pretends that he thinks that "it's just part of the game" when Jessie tells him to let her loose. So Jessie kicks him where it hurts and he falls to the floor and dies of a coronary, leaving Jessie alone and cuffed to the bed. The rest of the book consist of Jessies struggle not only with the handcuffs, but also with her inner voices and demons. Nothing really surprising happens, but Jessie's story is so well told that it's hard to put the book down.

I'm not sure that I like the ending - it seems a bit tagged on, but other than that, I liked this book very much.
Written on 14th October 1999 by TC .
You may also like