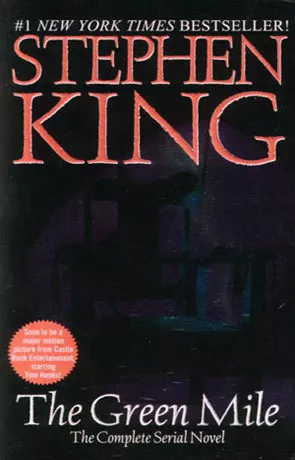 Book details
The Green Mile

Publisher:

ISBN:

Published:

1996

Pages:

480

Format reviewed:

Paperback

Review date:

05/12/2001

Language:

English

Age Range:

N/A
About the author
The Green Mile is a novel by the master of horror Stephen King.

Originally TGM was released in six parts, but I knew that I would hate waiting for each new part of the series, so I decided to wait and now all six parts are available in one book at about 530 pages.

The story is about prison guard Paul Edgecombe and the events that are taking place while he's the head guard on a death row in the early thirties. Most of the story centres on the prisoner John Coffey, who's going to "walk the green mile" (there's a green carpet on the floor down to the electric chair) for raping and killing two small girls. Coffey is really big, feeble minded and extremely gentle and Paul soon starts to doubt that Coffey killed the two girls. Oh, yes and this being a King novel; there is something strange about Coffey. Maybe he's not as strange as the mouse, but that's another story.

The Green Mile is a rather quiet book compared to what we usually see from Kings hands, but it's also a lot tighter than usual. It's like the format has forced him to control his usual ramblings and keep the story tight and more evenly paced than he normally does (to keep both a bit of action and a bit of contemplation in each of the six parts). I like it and I like it a lot. And the ending is one of the best ever in a King book – that doesn't mean much, but for once I would actually say that the ending is without fault.
Written on 5th December 2001 by TC .
You may also like