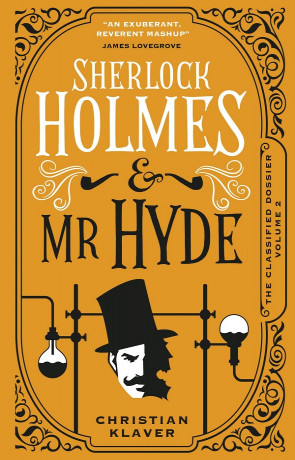 Book details
Sherlock Holmes and Mr Hyde

Series:

Book 2 of The Classified Dossier

ISBN:

978-1789098693

Published:

September 2022

Pages:

344

Format reviewed:

Hardback

Review date:

14/09/2022

Language:

English
Books in the series
About the author
Sherlock Holmes is such an iconic figure that it is easy to believe that he was real. A great detective walking the streets of Late Victorian London solving crimes that conventional police could not hope to solve. But he was not real, neither was Watson and they are both out of copyright which means that these fictional characters can be written into stories of other great Victorian characters; Dracula, The Invisible Man, Cthulthu. In the second of Christian Klaver's The Classified Dossier series we meet all these people as well as Sherlock Holmes and Mr Hyde.
After recent events Holmes and Watson will never be the same. Watson is now infested with the Vampire blood disorder but can control his cravings with the use of animal blood. Holmes' sense of logic has taken a battering. If vampires are real, what else could be? A Doctor who transforms into a beast? Mr Hyde is no beast, but he does need the brilliant Sherlock Holmes' help. He is being framed for a new set of murders in Whitechapel. Jack the Ripper is back, and the police want Hyde to hang for it, but Holmes is not so sure.
Sherlock Holmes and Dracula was the first in the series and was some of the best fantasy Holmes fiction I have read. It had the undead walking the streets of London and creatures emerging from the depths, but it also felt true to the spirit and style of Conan Doyle. Hyde continues this trend and reads like a Sherlock story that just happens to have exceptional elements. Jekyll and Hyde is only one element in the book. Rather than being an antagonist, Hyde becomes an unlikely ally against a cult far more dangerous, who set on bringing the end of the world.
Although supernatural in nature, Klaver sticks to the principles of Holmes and frames them in the way a person of science can understand. Hyde is the creation of science, and his introduction is very well done, linking into the Sherlock cannon. Even the vampires and invisibility are framed by science. This is a world that shakes Holmes, but one that he can learn to understand. There is a logical conclusion hidden somewhere.
However, with the cult of Cthulthu, the door is opened to a world of old Gods. Is this something that Holmes will be able to examine and explain in a rational world? Intelligently at this point, Klaver does not explore the old Gods too deeply. Sherlock and his allies dismiss the cult and their deities as hokum, and it is all the mad ramblings of a deluded cult. Or perhaps not.
There are a lot of new characters introduced in this second outing, but some old favourites also return. Sherlock has managed to gather an impressive group of allies on both sides of the law (both the law of the land and law of nature). The biggest evil in the book is the Ripper. Someone is killing the citizens of Whitechapel. This case brings structure to the book across its various parts. Sherlock never takes his eye off solving this case, no matter who turns up.
Told from the point of view of Watson and in his authentic voice, Hyde feels like it could be the hidden adventures of Sherlock Holmes, and this is testament to Klaver's ability to keep the story grounded in Conan Doyle's style, no matter where events lead. The book works well for any fan of misty and dark urban fantasy, but it would also make a pleasant change to any fan of Holmes books written since the characters became copyright free.
Written on 14th September 2022 by Sam Tyler .
You may also like