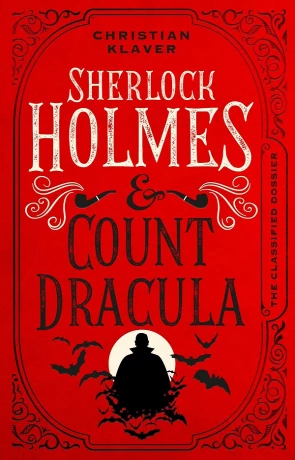 Book details
Sherlock Holmes and Count Dracula

Series:

Book 1 of The Classified Dossier

ISBN:

9781789097122

Published:

November 2021

Pages:

352

Format reviewed:

Hardback

Review date:

19/01/2022

Language:

English
Books in the series
When a beloved intellectual property enters the public domain, it can be a fearful time for fans, what on Earth are all these authors going to do with your beloved characters? In the case of Sherlock Holmes, it has been a magnificent time. Each year the shelves bulge with new tales about the detective and his doctor friend, and from what I have read the standard has been high. You have straight stories, but also an abundance of genre friendly tales that amp up the 'supernatural' elements of the Sherlock stories and considers them to be real. What could be cooler than Sherlock Holmes and Count Dracula? Nothing, if author Christian Klaver gets the tone right.
Sherlock Holmes is dead. During his life there were a series of cases too outlandish and bizarre to share with the public, these were known as The Classified Dossiers. Watson has outlived the great detective and is now releasing some of these tales, like the time that they met a peculiar Count Dracula. The Count is visiting London and needs Sherlock's help as his wife has been kidnapped. It does not take long to deduce that there is something different about Dracula, but will Holmes believe his own deductive reasoning that this Count is a vampire?
Having read many Sherlock Holmes books not written by Arthur Conan Doyle, I have a sense of what works well for me. No matter how outlandish the tale becomes, it must remain true to the core characteristics. Klaver is obviously a student of the books and maintains the right feel, even if Holmes and Dracula contains the undead. The structure is perfect; narrated from the perspective of Watson, it perfectly mimics the mixture of respect and exasperation that Watson had for Sherlock. The book is also split into sections, each acting as its own case, but together they make up a whole. Fans of Holmes will not be disappointed by the structure but may be surprised by the content.
The book boldly explains that this is about Sherlock and Dracula bringing the vampire from his fictional world into that of Baker Street (once again the wonders of public domain). How do you balance a man of science with the concept of vampirism? Klaver does so perfectly by making Holmes tackle the mystery like any other, with reason. What could be considered supernatural, is merely natural and yet unknown. A blood disorder hidden from sight in a Victorian world in which we know many things, but not all. When you have eliminated all which is impossible, then whatever remains, however improbable, must be the truth.
The world of vampires and Holmes blend well because Holmes is willing to believe his own gathered evidence. There are hints of other creatures and manifestations in future outings, but all will be tackled with a scientific mind. One decision that is made early in the book has a significant impact on the story, the relationship between Holmes and Watson, and the series. It is a bold choice made by Klaver and it separates these Classified Dossiers from other adventures. It may be a step too far for Holmes purists, but I imagine they would have run a mile when seeing the title, leaving those readers that like some experimentation.
Sherlock Holmes and Count Dracula works because it stays true to the characters of both worlds. Klaver can make what could be considered unbelievable, believable. Holmes is the perfect foil to give science fiction and fantasy ideas enough explanation and grounding to be considered real. With this foundation, Klaver has written an entertaining four-part tale that has Watson and Holmes going up against one of their most deadly rivals yet. Well worth picking up for any fan of fantastical Sherlock tales, but also would make a cheeky read for a Holmes purest looking for a little escapism that respects the sources.
You may also like