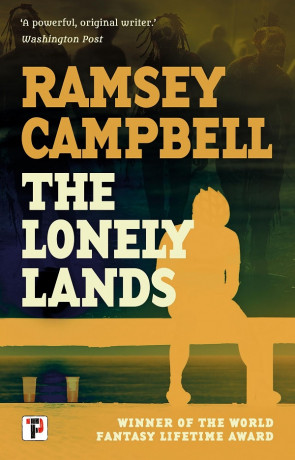 Book details
The Lonely Lands

Publisher:

Flame Tree Press

ISBN:

9781787588646

Published:

August 2023

Pages:

246

Format reviewed:

Paperback

Review date:

01/09/2023

Language:

English
About the author
As long as someone remembers a loved one, they are never truly gone. This could be done by visiting their final resting place or a special location that you used to go to together. It could even be a keepsake that reminds you of them. Looking at the object you can almost see their smile or hear their voice. What would you do if one day that voice did realise itself? Would you panic and try to forget to that you heard anything, or would you try to capture it again? In Ramsey Campbell's The Lonely Lands a widower seeks to hear the sound of his wife's voice once more, but in doing so opens himself up to others from the beyond.
When Joe Hunter just got out of a messy relationship, he never planned to step right into another one, and certainly not one that would end up in meeting the love of his life and marriage, but that is what happened. But life also happens, and when his wife passes, Joe is left bereft, feeling like he is living a life in between. The perfect place for him to experiment with the words that his grandfather taught him as a child. If you search for someone, you may just be able to find them again.
Lonely is a supernatural ghost story on the milder scale of horror, but it is also a story about grief. With so much horror focussing on the undead, the way that the living is feeling is not always accounted for. This is Joe's story, and it all comes about because of his grief.
The book takes on an ethereal feel throughout, not in just the narrative, but also the structure. It feels like the book floats from the present into the past, but also onto other plains of consciousness. Rather than getting the reader lost, it adds to the feel of the book. We are introduced to The Church of the Eternal Three through Joe's Grandad, who suggests that the dead are still living somewhere and that you can reach them. For years Joe ignored this, until he needed it.
Opening the door to find his wife also left it ajar for other beings. It is here that the horror elements manifest themselves. There is a slow build up, a creeping dread. Towards the end the book is more visceral, but it never gets too horrific, expect for how some of the ghosts look and act. The ghosts are unsettling, but the real horror of the book is in the real world. Set during the pandemic, COVID plays a role and Campbell hints at some of the societal breakdowns in the modern world. This is truly scary, and it seems that Joe is no longer able to deal with the cruel real world.
Lonely is more a book of unsettling feelings and discomfort than outright horror, but that does not make it an easy read. Grief is dealt with in an intelligent manner, via a character who is feeling its punishment full force. At times, the reader will also feel this. It is a novel that makes you question society today, but also what happens when you die. Campbell captures all this, not in just the story, but in the very structure of the book.
You may also like