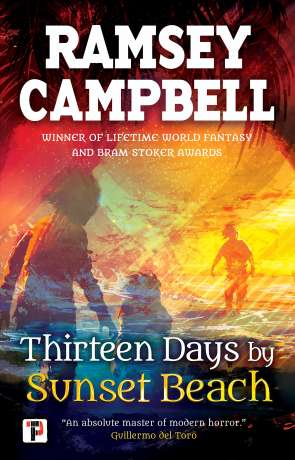 Book details
Thirteen Days by Sunset Beach

Publisher:

Flame Tree Press

ISBN:

978-1787580329

Published:

September 2018

Pages:

288

Format reviewed:

Paperback

Review date:

05/11/2018

Language:

English
About the author
Ramsey Campbell has won countless awards over the years and many of his stories are considered classics in the field of horror. S. T. Joshi has stated that "future generations will regard him as the leading horror writer of our generation, every bit the equal of Lovecraft or Blackwood."
Thirteen Days by Sunset Beach is being published by the brand new imprint, Flame Tree Press, as part of their launch line-up. The book follows the couple Ray and Sandra as the journey to the new greek island of Vasilema for their first family holiday - complete with three generations of mildly dysfunctional family members.
The island seems different to other parts of the country, the skies are cloudier for one while the locals are a bit eccentric. There appears to be no mirrors in any of the buildings, the beaches have huge parasols everywhere and then there was a really odd nocturnal ritual that happened during the saint's day celibrations. Why do Sandra and the teenage grandchildren have strangely similar dreams and why do some of the locals seem to follow them everywhere?
There is a good reason why Campbell is still considered one of the modern masters of horror, not just that he has a career spanning more than 50 years, 30 books and countless stories but that he can still make his work stand out - give a different slant to the standard horror tropes.
With Thirteen Days at sunset beach it's the way he builds the tension ever so slowly, dropping little bits of detail about what this family is going to go through while describing mundane holiday scenes you can relate to. It's this grounding in reality that helps to heighten the suspense and deliver a bigger shock when something actually happens.
So yes this isn't a book that has guts and blood and heart-wrenching shocks every few pages or so and if you are after that sort of horror you will be dissapointed. There isn't really that much horror at all, it's mostly lurking in the background as the family go about their holiday.
The characters are well written and Campbell spends time going through the relationships, idiosyncrasies and inter-family politics. In some ways it could be seen that this "family holiday" is the real horror and anyone who has a large family and all spent time in one place will relate. Most people will also relate to the problems of lost luggage, missed connections, fears of lost passports and the resulting short tempers that seem a natural part of any holiday. These family mechanics are the heart of the book and create this moving, insightful journey that is both rewarding and reflective, asking more questions that it answers.
Campbell's ability to convey horror lurking just out of sight, beneath the veil of mundane normality is simply brilliant and each of the characters act in plausible fashion as things spiral out of control. While this book isn't for everyone, it's perfect if you are looking for something with a bit more thought than the in-your-face gore or run of the mill horror story.
Written on 5th November 2018 by Ant .
You may also like