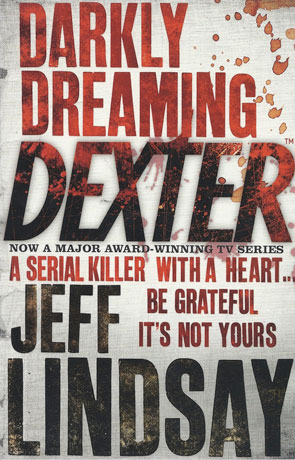 Book details
Darkly Dreaming Dexter

Series:

Dexter Series

Publisher:

ISBN:

9780752865744

Published:

May 2004

Pages:

275

Format reviewed:

Paperback

Review date:

18/06/2013

Language:

English

Age Range:

N/A
Books in the series
I must admit I watched the entire series of Dexter before I even picked up one of Lindsay's novels. Did I do the right thing? Yes and no. I absolutely loved the show, one of my faves. The book? Awesome too. I will definitely be adding them to my collection in the near future. Are they the same? No. Similar? Yes. The show closely follows the novel for the majority with many of the characters acting the way they do in the book, albeit described differently from the way they are portrayed on screen, but this doesn't detract at all from the story.
For anybody who hasn't read one of the Dexter novels, or watched the show, the story is a simple if not intriguingly original one. It follows a Miami forensic, a blood splatter specialist, who helps the Miami police solve crimes through his ability to read crime scenes from the blood that's found at the crime scenes. Many of the times he can read the killer more accurately then any profiler. His hunches often leading to the killer ceasing his crimes one way or another. You see Dexter has a secret. He too is a serial killer, one with a code. He can only kill bad people, people who have also killed. If the police can't catch them legally then Dexter is willing to help his way.
If you have seen the programme you will not be disappointed at all in this book. There are enough differences in it to make it fresh, give it a different separate twist that won't make you think, "That didn't happen", and an ending completely removed from the TV show that will make you rush straight out to the nearest book store to find out what happens next.
It was a wonderful read. Well presented, showing you the underlying thought processes behind Dexter's Dark Passenger that the TV programme is unable to do.
Can't wait to read the next instalment in the series.
Written on 18th June 2013 by Arron .
You may also like