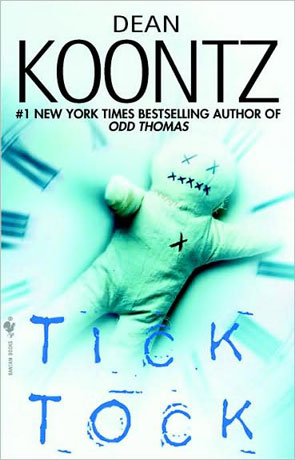 Book details
Ticktock

Publisher:

ISBN:

Published:

July 1996

Pages:

320

Format reviewed:

Paperback

Review date:

10/05/2013

Language:

English

Age Range:

N/A
About the author
By the time Dean Koontz wrote this novel he was already a household name. He had infiltrated the mystery / thriller / horror genres like no other. With a novel a year hitting the bookshelves he was as prolific a writer as Stephen King. However on closer inspection one can find that a lot of the books published during this time were re-writes of his earlier work. Whether it was his success as a writer that encouraged him to release some of his older works a second time, greed on his or publisher's parts, we will never know. Ticktock however is a completely fresh novel and one that packs a punch. It's undercurrent themes of paganism and magick are obvious to anybody who has an interest in the craft, while to others the mix of genres in this novel make it a very interesting read. He has long been known for mixing different genres into one book, a practice often scorned upon by others in his profession, and yet seems to work wonderfully under Koontz's penmanship. In this novel he mixes horror, mystery and slapstick very successfully. What in another's hands would turn out to be a very poor black comedy or even worse spoof horror actually makes the whole experience very uplifting. On one page your heart is pounding as you follow the characters exploits, the next you are tittering with laughter.
The story follows a Vietnamese-American who finds a rag doll on his doorstep one winter night. Confused as to who had delivered such a weird package he brings into his home and goes about trying to find out who has sent it. Tommy, the main character was a reporter in a former profession and worried he may have upset some Vietnamese gangs he asks his older brother for help. Along the way the rag doll bursts apart and what is hiding inside is a monster with only one intent. To kill Tommy by dawn. The message that appears on his computer screen is clear on this. "The deadline is dawn. Ticktock".
With help coming from an unlikely but wonderful source Tommy strives to outrun the monster, trying to stay one step ahead until he can surpass the deadline and survive.
All in all an excellent novel, Koontz paces the novel wonderfully. One problem I notice with some authors when it comes to writing novels where a deadline is a theme, is that they are extremely long winded and you often wonder how long can this night possibly last or too short and leaves you thinking, "Jeez that was quick". Koontz doesn't suffer from that problem with this novel, however the one downside I found is some of his explanations for the phenomenon that occurs through Deliverance Payne a bit too contrived and seem aimed at an audience who just want a quick fix rather than to make people think and explore the subjects in more detail.
Written on 10th May 2013 by Arron .
You may also like