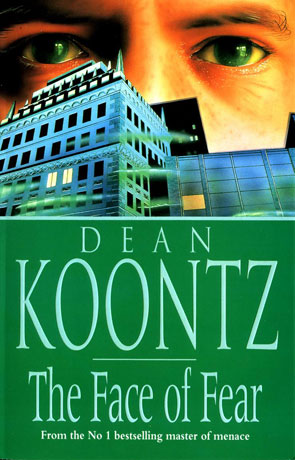 Book details
The Face of Fear

Publisher:

ISBN:

B00A7ZJRRU

Published:

1977

Pages:

320

Format reviewed:

Paperback

Review date:

20/09/2013

Language:

English

Age Range:

N/A
About the author
Quite a small book on the whole, just coming in at over 200 hundred pages but I must admit not one of those pages was wasted, each one moving the story along in a fast paced manner. The book is more suspense than horror or thriller but I do find it sits nicely on the bookshelf amongst his other works. K R Dwyer is one of the many pen names Dean Koontz chose to use in his early days as a way of writing in various genres without upsetting the fans of others. Only nine years into his professional writing career and already this was his 35th novel and his fourth land last under the name K R Dwyer. The only trouble with this book that I could find is that it is still so obviously Koontz, despite the genre, and that isn't an issue at all. Very well written but for his 35th novel he has in such a short space of time had a lot of practice to hone his craft.
It definitely isn't one of his best and definitely feels dated. It would have turned out ok as a cheap 70's suspense flick as the action is fast paced and the killings in it are written well enough to pass any censorship laws from now or the seventies from when the novel hails.
It is the story of an ex-mountaineer, Graham Harris who after a fall from Everest hits his head and gains clairvoyant powers. Able to see murderers and criminals he helps victim's families and the police to catch culprits. Currently in New York a serial killer/rapist called the Butcher is stalking the streets and no woman is safe. Whilst being interviewed by a notorious television personality, Harris sees the Butcher strike again. Determined to help the police catch this guy before he can strike again he ends up appearing on the Butcher's radar and is stalked in a deadly cat and mouse game through a forty storey high rise.
The following plot line does become obvious, but is well written with some quite clever black comedy moments, either intentional or not that make it quite an enjoyable read. My only true failing with this novel is that it doesn't stand the test of today's novels. With the Butcher cutting the telephone lines you just have to think to yourself,
"Why not use your mobile phone to call for help?"
Written on 20th September 2013 by Arron .
You may also like