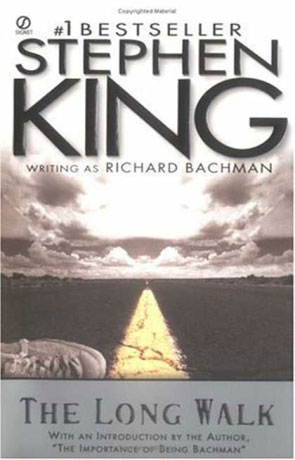 Book details
The Long Walk

Publisher:

ISBN:

9780613173506

Published:

July 1979

Pages:

384

Format reviewed:

Paperback

Review date:

31/05/2012

Language:

English
Review by Arron Clegg. Wow, what a novel. Not my first time for reading it, but I just seemed to enjoy it even more this time around. Now, most of you out there are already aware that Richard Bachman was a pen name for Stephen King. He chose to do this purely because in his early days, even as today he has that many stories bursting out of him that he just had to get them all out there, for us, his readers, to devour. It was a common theme for publishers to only publish one book a year from authors, as they felt that was all any audience could deal with. Stephen was one of a few authors who proved them wrong in the end. Using Richard Bachman as a way to get more books published quicker it wasn't long before people recognised the style of the "two" authors was very similar and putting two and two together came up with the fact they were one and the same.
Written very early in his career it is a very dark look into the future of what could happen in an alternate, almost totalitarian existence. It draws similar parallels to another of his novels, The Running Man. It tells the tale of a game show type environment to the death. In a world where now, even more so than back then, where the reality style game show is ever more prevalent you could really believe this book coming true in the future. It is this realisation that brings the horror smack bang to us and yet we still turn the page.
It is a very simple story, and to be honest, reading the title and the synopsis, you would wonder how on earth Stephen could create a full book out of it without it getting strangled or tedious. However he does just exactly that. A story of 100 walkers, walking 450 mile non-stop, until the last one walking wins. There is a catch though, remember this is Stephen King after all. If you slow down, under four miles an hour, for more than three times in a row you get shot dead by the faceless guards who accompany them. The book is very well written; the bonds that grow between the walkers get tried and tested beyond measure. The frailty of human existence is often very clear and a slight trip up, which for most of us is just an embarrassment, could be the last thing the walkers ever do.
Written on 31st May 2012 by Arron .
You may also like