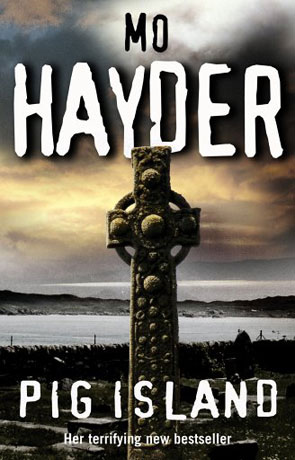 Book details
Pig Island

Publisher:

ISBN:

9780553824865

Published:

Pages:

512

Format reviewed:

Hardback

Review date:

30/08/2013

Language:

English
Traditionally Mo is a thriller writer; she certainly does love a good mystery yarn. However I was sold this novel on the pretext that this novel contains enough horror overtones to be able to put this book firmly in the horror section.
They weren't wrong. I'd go so far as to say that it is a horror novel with crime/thriller undertones. The length of the book was just right. No extra padding was noticeable and the style of writing although aimed for a crime/thriller audience was easily adaptable to the genre of horror. The only fault I could find with this though was that the pace was too slow and plodding for the horror genre, not that all horror books are fast paced, but the plot and idea behind this novel could have been quicker told in a traditional horror genre setting.
Saying that and although I did struggle with the pace at times I really did enjoy the book on the whole. The ending was a tad too obvious but then there was only really one way to end this book and the ending wouldn't have looked out of place in any B-movie thriller.
The book started really well though, what seemed to me like more than a nod to the likes of The Wicker Man, with its remote Scottish island of religious fanatics.
The horror scenes in it were well descripted, enough to make your toes curl at any rate. I did also particularly like the dual perspective of the story being told by Oaksey in one part and then Lexie his wife in another. This did work really well and was a pleasant surprise amongst an otherwise dark tale.
The story is basically summed up by Oaksey, a reporter, ridiculing a "faith healer" by the name of Malachi Dove, for which Malachi promises to run rings around Oaksey before taking his own life. Years later footage of a Pan-like beast was released on Pig Island, the last known habitat of Dove. Oaksey goes to investigate the footage and prove it a hoax while at the same time confronting his nemesis. What follows is a pretty good cat and mouse thriller with superb horror elements.
Written on 30th August 2013 by Arron .
You may also like