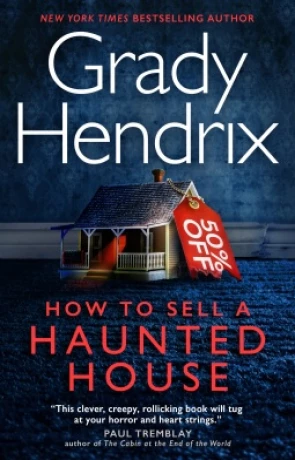 Book details
How to Sell a Haunted House

ISBN:

9780593201268

Published:

January 2023

Pages:

0

Format reviewed:

E-Book

Review date:

18/01/2023

Language:

English
About the author
Any house of a decent age is haunted. There are no spectres, but there are ghosts of memories, the people that lived and died there over the years. I grew up in a house that was once a Victorian police station and then a Greengrocers. As I moved out, my parents stayed. When they left, instead of moving far, they built a cottage in the back garden and now every time I visit, I see my old house out front. Full or memories, ghosts of the past. What I do not see is any demonic puppets like in Grady Hendrix's latest, How to Sell a Haunted House, and the only reason it took a while to sell was the depressed housing market. This may be the truth but would not make as fun a horror novel.
Louise has moved far away from her childhood home, from her eccentric parents and irritating brother, but when her parents die, she is forced back for the funeral and to sort through their things. Her relationship with her brother, Mark, has always been poor, but when inheritance is on the line, things get worse. Mark cannot be trusted with money, but he does not seem to agree. To make matters worse there is the minor problem of their Mum's puppet collection that appears to be coming to life and attacking people. That will make selling a house full of the things slightly trickier.
I enjoy Hendrix's work. This is an author who takes a post-modern look at horror and spins the classic feel of 80s movies and makes them something new. My Best Friend's Exorcism was a John Hughes take on The Exorcist, and the excellent The Final Girl Support Group was a love letter to classic slasher movies that took the genre in a new direction. You would think that with this title that Haunted House would be Hendrix's take on the haunted house genre, but it is more a homage to the likes of Demonic Toys and Puppet Master, two series of films that 80s horror fans will know and may even cherish.
Out of all the books I have read so far by the author, this is the least left field. It is a straight horror in many places with scenes of dolls and puppets coming to life and harassing Louise and Mark in particular. Action horror struggles in the written form and the visceral scenes in Haunted House are easy to understand but feel like they should be on the screen. The sense of tension and terror is just not the same.
Where a novel has an advantage is in character development and here Hendrix pushes the sibling relationship. It is the friction and begrudging respect that Louise and Mark have for one another that separates the book from straight slasher fiction. However, I found their attitude to one another harder going than the horror. The opening act is not slasher horror, but the grimness and horror of warring families. I found it depressing and sad. True to life for many, but far more uncomfortable than a doll chasing someone down the corridor with scissors.
Hendrix's work is often underpinned with a wry humour and in this case, it did not work as well. The eccentric extended family and nonsense about Christian puppets are there to lift the story, but the grim family feuding left me sad. The horror is of a good standard and does remind you of the Tunneller in Puppet Master, but it is not the high standard I have come to expect from the author. A competent novel, but not one of Hendrix's best.
You may also like