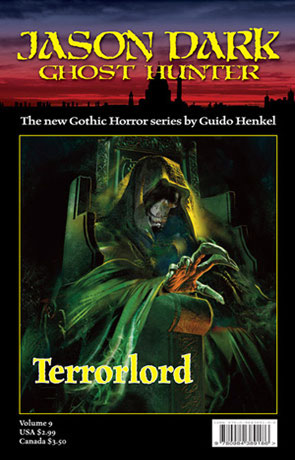 Book details
Terrorlord

Series:

Jason Dark Series

Publisher:

ISBN:

Published:

December 2010

Pages:

Format reviewed:

E Book

Review date:

03/03/2011

Language:

English

Age Range:

N/A
Books in the series
About the author
Terrorlord is the 9th volume in the Jason Dark series by Guido Henkel.

Released by a dark and ancient ritual, the Terrorlord is freed once more onto the mortal plane, his one desire to open the seven gates of hell and unleash the undead hordes upon mankind. Jason Dark has the misfortune to have already met the Terrorlord when a small child and only just survived the encounter, leaving him scarred for life. This time the agent of evil seems unstoppable in his quest to bring the world of the living to an end.

This is the fourth Jason Dark novella I have read and I have to say it's the best yet, immediately engaging with a very tight script.

The characters are masterfully placed and although this is very much a personal hell for Jason Dark the novel takes the time to build and develop Lin and Herbert rather than Jason himself. The continued use of historical events and figures works very well here although this isn't quite as prevalent as the previous volumes. The story itself has a very fast pace and there is a much stronger feeling of a horror than the previous works, this comes across stronger than the Sherlock Holmes element for the first time.

The mood is much darker and I found myself really drawn into the situation, and feeling real concern for our intrepid supernatural sleuth which goes someway toward showing the quality of the writing here.

Terrorlord is a very well executed novella, fast paced, action packed and a real nail-biter, recommended.
Written on 3rd March 2011 by Ant .
You may also like