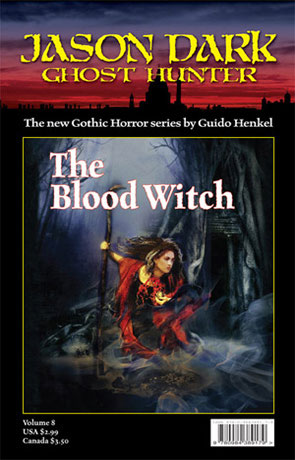 Book details
The Blood Witch

Series:

Jason Dark Series

Publisher:

ISBN:

Published:

October 2010

Pages:

Format reviewed:

E Book

Review date:

12/01/2011

Language:

English

Age Range:

N/A
Books in the series
About the author
The Blood Witch is the 8th volume in the Jason Dark: Ghost Hunter series of Novellas by Guido Henkel.

An ancient curse re-surfaces and from deep within England's dark forests comes a hideous terror, stronger than ever and stalking the fog wrapped streets of Victorian London. Young girls are disappearing and rumours abound of heinous rituals.

Fearing for her very life, a young actress working at the famed Lyceum Theatre calls desperately on Jason Dark for help. On the eve of Walpurgis Night, the Geisterjäger meets another formidable enemy as he comes face to face with the Blood Witch. Who will prevail?

The Blood Witch is a return to form for the Jason Dark series, with a nicely dark atmosphere that also manages to regain that Sherlock Holmes feel, I am reminded a little of the hound of the baskervilles, which was always may favourite Sherlock Holmes story. There is a much stronger horror feel to the book than either of the previous novels I read (volumes 6 & 7). There is also a faster pace to the plot and a very immersive and rich quality to the prose. We continue to get famous name drops, including King George III (who wasn't mad, he just saw Ghosts) and Bram Stoker makes a surprising appearance.

The relationship between Dark and Lu continues to develop and we even get a few glimpses into the enigmatic Jason Dark's past. The characters are spot on, the plot straight forward but with enough twists to keep the interest and the action top notch, move over Sherlock you've got serious competition here.
Written on 12th January 2011 by Ant .
You may also like