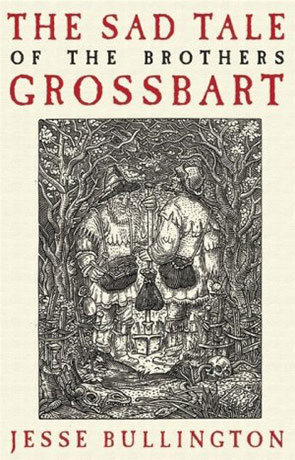 Book details
The Sad Tale of the Brothers Grossbart

Publisher:

ISBN:

9781841497839

Published:

November 2009

Pages:

464

Format reviewed:

Paperback

Review date:

27/03/2011

Language:

English

Age Range:

N/A
The Sad Tale of the Brothers Grossbart is a dark fantasy novel, the debut of Jesse Bullington.

The year is 1364 and in the plague infested, devil-haunted darkness of Medieval Europe most of the population struggle to survive, living in abject poverty while the opulent few enjoy a life of luxury. The woods, the sea and the sky are teeming with unspeakable horrors but none match the sheer pernicious greed or maleficent deeds of the the grave-robbing twins known as Hegel and Manfried Grossbart.

I found this novel after someone on Twitter recommended it as a good read, I hadn't ever heard of the book or author before but like to take a chance when I get the odd Amazon Voucher and so found myself ordering it along with Scalzi's "Old Man's War". The cover is absolutely fantastic, drawn in an old fashioned style, it is a picture of a human skull at first glance, until you look closer and see a very different picture, incredible.

When you read as much genre fiction as I do there are times when you long for something that offers a change from the good versus evil tales that most fantasy novels seem to offer and this fit's the bill perfectly. The two brothers are unhappy with their meagre lot in life and so set off across Europe to find their fortune, wading their way through witches, demons alcaholic priests and unhinged sea Captains with time out for a bit of theivery and general thuggary that is somehow all justified through their own unique view of right and wrong and their misguided beliefs.

For anyone who has ever thought they are sick of reading about good people doing good things this is the book for you, but be warned you must be strong of stomach and stout of heart to survive a journey with the brothers Grossbart as their tales involves graphic and occasionally shocking scenes of violence, sex and quite profane language.

For those who don't mind (or even enjoy) vivid, gruesome descriptions, this is an exceptional novel by a very talented author who manages to weave a sordid, brutal and quite grim tale that still retains a dark humour and a strong sense of life in Medieval Europe. What makes this tale even more macabre though is the fact that it's based on real historical events and there is more than a passing nod to some of the more outlandish real medieval heresies.

The way the author manages to keep the reader interested and in some way caring about what happens next, capturing the human fascination with the morbid and disgusting - is nothing short of genius. The graphic fight scenes are well laid out and this is one of those books where just about anything can happen and often does.

The pace is fast and for the most part the script flows very well, although the last third of the book is slightly slower than the proceeding thirds but this is inevitable in the direction the story goes. The language of the novel is also well placed, with enough of a slang to adequetly describe a medieval setting without losing the modern reader in a quagmire of long forgotten old-worlde speak.

The Sad Tale of the Brothers Grossbart is a brave, rude, uncompromising and very funny tale that will leave you slightly shocked but hugely entertained.
Written on 27th March 2011 by Ant .
You may also like