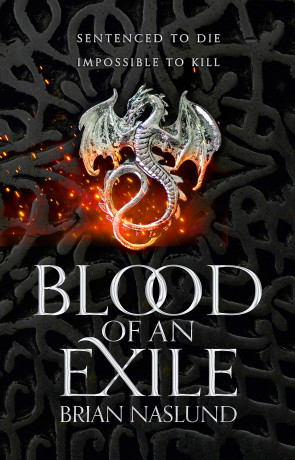 Book details
Blood of an exile

Publisher:

ISBN:

978-1529016123

Published:

August 2019

Pages:

416

Format reviewed:

Paperback

Review date:

08/10/2019

Language:

English
Once a noble lord, after a failure on the field of battle, Silas Bershad "The Flawless" was stripped of all titles and forced into the life of a dragonslayer, moving from one perilous hunt to the next. Stalking dragons and collecting their valuable oil, his only escape seems to be death. But death has so far refused to claim him and he's now a living legend, the most famous dragonslayer in the world.
Both revered and reviled in equal measure, Bershad has amassed over sixty kills to his name and seems unstoppable. Given his failure to die, King Hertzog decides that Bershad should have a different fate, a chance at redemption if he carries out a seemingly impossible challenge. All he has to do is cross dragon infested mountains, sneak through a seedy criminal underworld in a remote foreign land and then cross a forbidden city protected by deadly technology before killing an Emperor. Said Emperor is planning on wiping out all Dragonkind (with resulting loss in valuable oil) which sits stangely ill-at-ease with a guy whose job it is to kill dragons. Having previously moved in high circles, Bershad is no stranger to the palace and it's inhabitants, and was once very friendly with princess Ashlyn. Ashlyn is an environmentalist and doesn't want to see Dragons wiped out. Lastly, refusing the order of the King is a death sentence anyway and so Bershad reluctantly accepts the quest.
Blood of an Exile is a dark (GrimDark) story, one that doesn't do much to move past Tolkien's shadow, containing the usual fantasy tropes. It does however have a great deal of redeeming qualities. Not least of which is the quality of the writing, which is excellent - especially for a debut novel. It has an easy reading style and the author keeps a steady pace. There are perspective shifts from the various main characters and this helps to break up the chapters while also helping to keep things interesting. The characters themselves are well crafted and Bershad makes a great protagonist - one of those rough diamond types that often frequent fantasy novels (especially those with GrimDark qualities). I'd have to say though that the star of the show is actually Bershad's Donkey Alfonso.
The world-building is effective and suitably deep, despite the usual medieval setting with magic and dragons all other fantasy trappings, although this is expanded upon with some steampunk trappings and other ideas that provide something a bit different. The main theme of environmentalism is well played, it's messages are not too heavy-handed or preachy (although they are far from subtle) and the arguments are well thought out.
Blood of an Exile is a solid novel and a promising start to the series, it's fast paced with plenty of action (and gore). It has bags of style, interesting characters and a strong, well worded message that resonates particularly well right now given our climate emergency and capitalist controlled western countries.
Written on 8th October 2019 by Ant .
You may also like