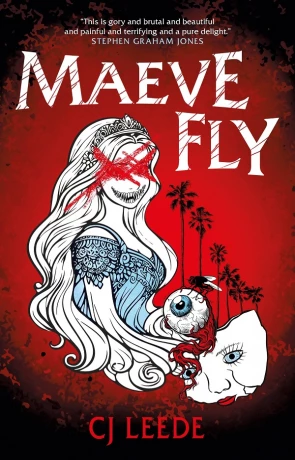 Book details
Maeve Fly

ISBN:

9781803367149

Published:

September 2023

Pages:

304

Format reviewed:

Paperback

Review date:

04/10/2023

Language:

English
It makes me comfortable to think that we all have small voices in our heads on occasion telling us to do something. The important thing is to only listen to them when they are giving good advice. Ask that person out – sounds scary, but a good plan. Put that spoon in between your teeth and twist – bad advice. Murder your co-workers and put their teeth in a jar – best to avoid. For the titular Maeve Fly, she must choose between the monkey and the wolf, whose advise should she listen to if she wants to remain hidden in plain sight playing the Ice Princess at an exceedingly popular Theme Park?
On the surface Maeve looks like the perfect Princess playing the Ice Queen alongside her best friend. She loves her friend, and she loves her grandmother, but when her grandmother becomes deathly ill and her friends starts to pull away, Maeve's regimented existence begins to crack. For most of us this would hurt, but would not be dangerous, but Maeve is not like the most of us. She has compulsions that she needs a steady head to repress, with inner turmoil comes danger.
Like any genre, Horror is a wide spectrum, from brain draining aliens in space to ghosts in rural Idaho. I love a bit of grounded horror, the uncomfortable sort about the horror that real people could commit. Maeve is the tale of an everyday killer told in an exceptional way. Instantly you get a sense of darkness in the book, Maeve paints the picture of respectability in her day job, but we are inside her thoughts. The children seem drawn to her, even though she sits there and watches serenely as a nosebleed drips onto a child's head.
This is a modern genre piece that wears its inspirations on its sleeve. Maeve herself mentions the likes of American Psycho, Chuck Palahniuk and I would throw in Henry: Portrait of a Serial Killer in there too. All of these are the pitchest of black in tone, but also have a sense of irony and sick humour. C J Leede is a name to add to this list. It is not easy to write this sort of uncomfortable fiction and still make the characters compelling and the story one that you want to know the end of.
What starts off as a dark tale of a twisted mind, evolves into body horror. The book is on the darker spectrum of the genre and not for the reader who likes something that is only a little spooky. Leede uses the character of Maeve to make you question yourself. It is provocative writing that I found very enjoyable, but I understand it will not be for all tastes.
It was great to get some of her dark materials, rather than from the male perspective again. Maeve even comments on how the world of violence and menace is owned by the male sex. By the end, the reader will be disavowed of this. By having a female lead, a story of a damaged mind told using transgressional fiction, is given new life. You cannot help but be compelled to read more about Maeve.
As a massive fan of Palahniuk; especially the short stories, Leede feels like a Child of Chuck, but brings their own voice to the style. The juxtaposition of fairytale Princesses and murder is all types of wrong, but Leede makes it feel all types of right with intriguing characters and a fresh perspective.
You may also like