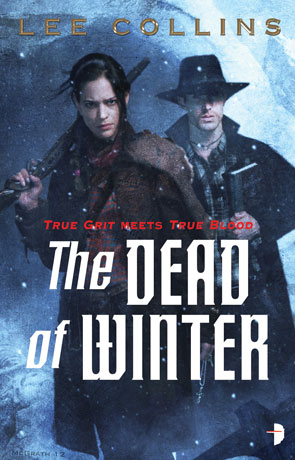 Book details
The Dead of Winter

Publisher:

ISBN:

978-0857662712

Published:

November 2012

Pages:

416

Format reviewed:

Paperback

Review date:

22/10/2013

Language:

English

Age Range:

N/A
The Dead of Winter was a novel that caught me somewhat off guard, combining two genres I enjoy immensely, horror and the westerns, and successfully merging them together. Set in and around the town of Leadville, Colorado the story follows the tough, hard-drinking, gambling lead of the story, Cora Oglesby and her quiet, book worm husband Ben as they deal with supernatural horrors in true Western fashion, with Winchesters, sabres and Colts.
When I first started this novel I didn't know what to expect, and I felt apprehensive reading a western setting, having never read anything set in that period before, but l love western films, so it had to be good, right? What I found was a gripping story with some immense twists, and characters and locations that you can imagine perfectly. It is a very good novel.
Marshall Mart Duggan and his deputy Jack Evans come across a grizzly scene outside of town with a culprit with who has left little to no trace of itself or its victims. On their return to Leadville, the shaken deputy heads for a nerve steadying drink in the Pioneer, the town's saloon, and it's here that we're first introduced to the heroine of the story, Cora. She speaks to Evans, and then offers Ben and her services in tracking down the monster responsible. Even though it isn't a large section of the story, I found it really well written, and could picture the scene and imagine the saloon, the smoky atmosphere, wooden bar, people playing cards at the tables, and it was a hint of things to come. The town seemed alive, and in every part of the novel I found myself picturing the locations. With one monster on the loose and Cora and Ben's suspicions of a vampire around the town, they set about trying to track them down. There are some great scenes in the novel, and it blends Native American folklore, vampire horror and the western setting to great effect which should give lovers of each genre something to enjoy. It's the first time I've come across a supernatural story set in this era, and I was honestly surprised how well it worked.
Now I'm hard pushed not to go into too much detail, because there are plenty of twists and turns as the story progresses and the characters develop, and some which I genuinely thought couldn't be the case (cue leafing back through the novel to check, and finding it all just really well written in!). By the end of the story I could picture Cora and hear her and a host of other characters accents, picture the town of Leadville, its occupants, the brothel, saloon, and a whole host of other places I won't mention so as not to give too much away. One thing I found really good about the novel was Cora seeking the advice of a priest (who has fought with them in the past) about the monsters in question, and weapons needed to combat them. It brought a different angle to the characters, they weren't just two unstoppable heroes against the undead, and they needed the help of more knowledgeable folk to help them achieve their goals.
All in all I really enjoyed Dead of Winter and can happily recommend this novel, it's a great read.
Written on 22nd October 2013 by Rob.
You may also like