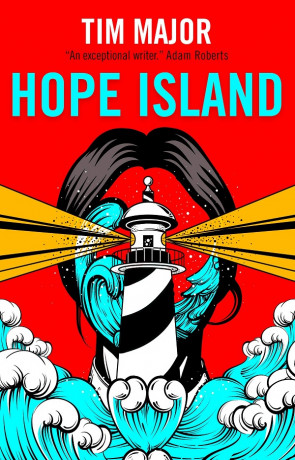 Book details
Hope Island

Publisher:

ISBN:

9781789092080

Published:

June 2020

Pages:

392

Format reviewed:

E-Book

Review date:

28/05/2020

Language:

English
Kids love them or fear them. It may seem a little odd to be scared of infants, but if anyone else screamed at you with a psychopathic rage you would probably take a step back. On their own they can be manageable, but in a group, they are sometimes scary. Even a few eight years olds gathered can be intimidating and you might just walk on the other side of the street. This may not be an option if you are on a remote island where the locals don't seem to think that anything is wrong and act like you are the odd one.
Brit, Nina Scaife, is having a life crisis. Her partner has left her, and she is now going to visit his parents on the remote Hope Island off the coast of Maine, USA, with their daughter. She has yet to tell her daughter that the relationship is over, and years of absentee parenting means that their relationship is not great. If having to deal with this and her 'in-laws' was not enough, the residents of Hope Island don't seem right. The adults appear socially broken, but this may just be a culture clash. The children are a different matter. Cold and indifferent is one thing, but when Nina suspects them of violence there is no one in the island to talk to.
Pedophobia is a rich vein for any horror/thriller novel as once you are no longer a child their actions seem alien to you. In Hope Island Tim Major has stepped into the shoes of the likes of The Midwich Cuckoos and The Wicker Man but added his own strange brew. You have the strange children, but also the remote location. All this plays on Nina's mind. By taking a UK citizen and placing them in a US location the sense of discombobulation is heightened further. Is it the fact that Hope Island is so different from England that is the issue for Nina?
The mental state of Nina is central for the book as we are with her throughout. Major balances the spooky elements with hints of gaslighting. Is what Nina seeing real or just figments of her imagination as she worries about her life falling apart around her? Being trapped on a strange remote island does not help. Until the final third, the book is more character study than horror. The slow burn allows us to really understand Nina, but that does not mean we always like her. She is to blame in part for where she finds herself emotionally.
The other character that is prominent in the book is the island itself. There is a strange community that mixes legacy families but also an art community. It is a remote location and the sense of quiet and spirituality plays a major role in the outcome of the book. What can you hear within the silence? A lot of the horror elements are played out in a dream like space that the island evokes. It is hard to feel the impact on occasion as the shocks are ethereal, but they do produce a sense of an unworldly island.
Fans of schlockier type of horror will get their thrills towards the end as the story unfolds. Before this point it is a far more cerebral horror book played out almost exclusively in the emotions of Nina. Fans of the two types of horror may struggle to entertain the other, but I would say that this is a book for horror readers that like a slow burn. The fact that the action hots up as the book nears a conclusion won't be enough for those used to a book like The Rats.
You may also like