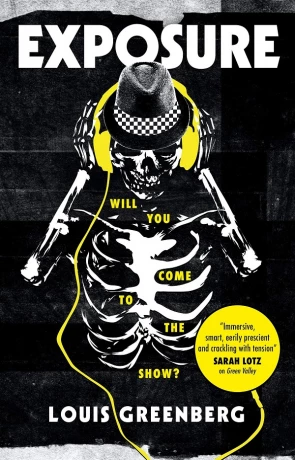 Book details
Exposure

Publisher:

ISBN:

9781789090291

Published:

November 2021

Pages:

352

Format reviewed:

Paperback

Review date:

29/11/2021

Language:

English
About the author
Going to see live theatre can be an exhilarating experience of an excruciating one, both for the same reason. This is live and in front of you. As an audience you are experiencing the magic together, or if things go wrong, the disaster. There is a power in this as if the theatre company have a hold over you, either good or bad. In Exposure by Louis Greenberg, the interactive theatre experience of Metamuse bleeds out further than just the audience and into the real world. Are there sinister connotations behind this art group?
When Petra Orff meets Vincent Rice, it feels like a moment of serendipity. When a man like Vincent falls from a from a ladder at your feet, you don't question it. Their first date is to see part one of the latest Metamuse theatre experience, an exclusive night out. Vincent won the tickets from a competition he can't remember entering. The night is a defining one for both Petra and Vincent that sees them changed forever and their relationship. With two more installations to see, Petra starts to see moments of theatrics in real life, but she is drawn back for more.
In Exposure, Greenberg undertakes one of the trickiest skills in fiction writing of bleeding the real with the unreal. The intense world of Metamuse begins to appear in Petra's normal life, but is she seeing things or is it some sinister ploy? As a reader you learn to mistrust what is happening. It could all be a con, it could be the supernatural, or it could be the undermining of fragile minds. It is up to you to interpret which you believe it is. Greenberg does a decent job of balancing all the reasons why Metamuse is bleeding out, but it does make the book unsettling at times.
To compliment the mind-bending elements of the book, there is a central relationship between Petra and Vincent. This is new and cannot be called love. Are their feelings for one another even real, or manipulated by a theatre company? Petra is core to the book, and she is the protagonist. Not only does she start to have issues in her new relationship, but also with her mother and her friend, who she has worked with for years. As the book progresses Petra feels like a boat that has lost its anchor and is floating through life. With no one she can turn to, it is up to her to take a stand.
The concluding section of the book brings with it a series of interesting reveals moving the book into a mystery/crime genre, all be it one wrapped in a dreamlike miasma. At points it can be hard to penetrate the layers contained in the story, but this does reflect the same anguish that Petra is finds herself. The conclusion brings the threads together as well as supplying one or two more satisfying twists.
Exposure is a book that is hard to pigeonhole, and that is no bad thing. Is it magical realism, a relationship drama, crime thriller? It is all these things but is never going to tell the reader. The book would suit a reader who like to be challenged and question what they are reading. The more cynical you are about events in the book, the more you will see. There are layers contained this book that need to be unpeeled that may even require an additional read through or two.
You may also like