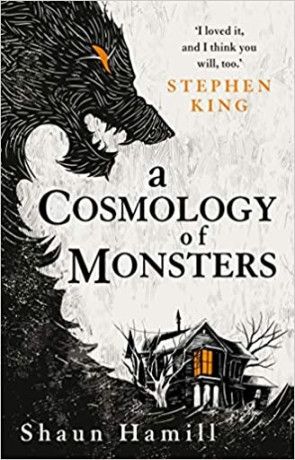 Book details
A Cosmology of Monsters

Publisher:

ISBN:

9781789094114

Published:

June 2020

Pages:

448

Format reviewed:

E-Book

Review date:

02/07/2020

Language:

English
H P Lovecraft's shadow casts a long one over the horror genre. He developed new types of horrors that reverberate today; psychological and body horror are just two. What has changed is the way that people perceive horror. Whilst once upon a time witnessing the horrors from a different dimension would send you insane, we now question what comes first. Are we in fact already insane and creating these images within our mind? Are the only modern horrors results of mental health? Schizophrenia is a condition that follows the Turner family through generations but are the monsters that they see real?
Noah Turner is the third child of a troubled family. His father died when he was a babe in arms and his two sisters are at war with his mother. Bubbling under the surface is the fact they all have problems fitting into society, probably not the best idea to have a family business of running a Halloween Horror House. Noah's life is difficult, but it takes on an even stranger bent when he hears something that scratches at the window. Most six years olds would scream but Noah befriends this creature and thus starts an existence like no other.
A Cosmology of Monsters by Shaun Hamill is a modern feeling horror novel that also pays homage to some of the best works of the 1980s. There is no doubt that mental health issues run through the Turner family and how they interact with the world is affected by this. Initially, Hamill treads a line between psychological and physical horror, the reader is unsure of what they are reading as the protagonists are not the most reliable. There is a recap of Noah's parents' past that creates a base to build the rest of the story upon but not a huge amount happens yet. As soon as Noah takes the main stage, the book takes off.
With such a dysfunctional family, Noah was never going to have it easy. He finds it hard to make friends, so it makes sense that when a creature scratches at the window he decides to build a friendship, rather than recoil. Initially, the book hints at the possibility that Noah has inherited the schizophrenia that has affected others in this family. As a fan of more practical horror I was delighted to see that some things are what they seem. Suddenly the book's various call-backs to Cthulhu begin to make sense as the book plays with alternative dimensions and things that go bump in the night.
The entire book has a dream like quality to it as it is told to us by Noah. Hamill is not afraid to question what makes a monster; Noah could be as bad as any creature; you must read the book to find out. There are several very satisfying twists in the book and Hamill has created a universe that makes a dark kind of sense. We go from a feeling of unsettling horror to more visceral as the book concludes. Events never become too extreme, but the book is certainly horrific in nature.
I do not want to give too much away with the direction that Cosmology takes but it is safe to say that the nature of the book is different from the start than at the end. For those that may find the family drama a little on the slow and non-horrific side, continue and the book opens and evolves. The middle section is packed with ideas that will resonant with any horror fans, especially of the classic 80s and 90s variety. By blending the concepts of internalised horror with a physical threat, Hamill has created an entertaining and disturbing book that will entertain any fan of the eerie.
You may also like