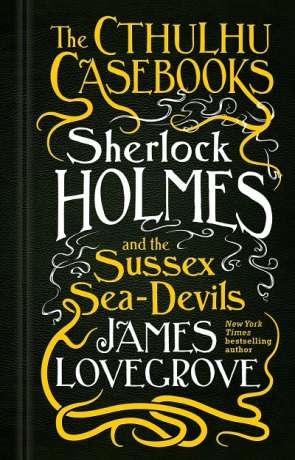 Book details
Sherlock Holmes and the Sussex Sea-Devils

Series:

Book 3 of The Cthulhu Casebooks

ISBN:

9781783295975

Published:

December 2018

Pages:

440

Format reviewed:

Paperback

Review date:

11/12/2018

Language:

English
Books in the series
About the author
Sherlock Holmes and his creator may be long dead, but this has not stopped the master detective living on in the works of others. James Lovegrove has written several stories that have expanded on Arthur Conan Doyle's legacy, but The Cthulhu Casebooks offer something very different by blending in the works of another classic author, H. P. Lovecraft. This mash up of Doyle and Lovecraft comes to a conclusion in Sherlock Holmes and the Sussex Sea-Devils as Holmes finally gets his chance to rid the world of the New God formally known as Moriarty.
By 1910 both Holmes and Doctor Watson are retired, but when your foe is a God you can never truly switch off. Holmes has retired to the country and lives alone with his bees in the Sussex countryside. When unnatural occurrences start to happen he has no choice but to once more call for his old partner and investigate. However, this is not a case of some violent redheaded men or crazed Italian women, but the interdimensional war between Old Gods and New. Can Holmes save the humans caught in between?
Mash ups do not always work as capturing the tone of two varied worlds is not simple. As somewhat of a Holmes aficionado, James Lovegrove has taken the sensible option of sticking close to Doyle's style and merely adding the influence of Lovecraft's creations. Doyle always teased the reader with the supernatural, it is a clean enough twist to assume that perhaps some of what Holmes and Watson saw was actually magical.
As always Sussex Sea-Devils is narrated from the point of Watson. This time they are secret texts as he admits to omitting some of the key elements of the books he wrote for the public. Many of their adventures actually saw they take on R'lluhloig, who at one point occupied the mind of Moriarty. With the concept of celestial beings on the table Lovegrove does an impressive job of choosing not to use them too much. Instead the first two thirds of the book are quite Holmes-esque. There may be a snake man here or there, but mostly the adventure pits Holmes mind against the odds.
When the balance of the book is more Doyle than Lovecraft, it is at its best. The story is almost like a series of mini cases, one being of the Sussex Sea-Devils themselves. This is a very satisfactory part of the book and really highlights how good Lovegrove is at capturing the spirit of Doyle. The final part of the book see the rise of R'lluhloig and things become more Lovecraftian. For me this is a weaker part of the book as intellect is replaced with action set pieces.
Overall, you are likely to get more from this book if you are a fan of Holmes more than Cthulhu as it is a detective story with supernatural elements, rather than any sort of horror. Either way this is a very well written and entertaining novel that pays homage to the legacy of two great creations and embarrasses neither.
You may also like