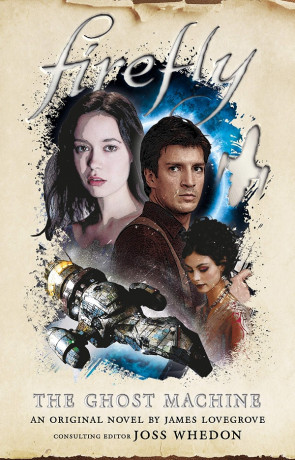 Book details
The Ghost Machine

Series:

Firefly

Publisher:

ISBN:

9781789092240

Published:

June 2020

Pages:

336

Format reviewed:

E-Book

Review date:

15/06/2020

Language:

English
Books in the series
About the author
The idea of a virtual reality being superior to the real thing reoccurs often in science fiction. Why live in the slums of Ready Player One or the battleship grey halls of Red Dwarf, when things can be Better Than Life? The issues arise because these simulated utopias always seem to take a turn for the worse. One minute you are The Cat, the next you are Dwayne Dibbley. The crew of The Firefly have a hard life, but a simple one that works. They do not choose to know what alternative life they could have led, but when a mysterious device known as the Ghost Machine is secretly stowed on their ship, their dreams might just get deadly.
It all starts off as a typical smuggling run for Captain Mal Reynolds and his crew. They set down on a remote planet to pick up a package that they do not know the contents of. Once there, Mal starts to get an uneasy feeling and calls off the job. There is no better way to do this than to start a gunfight with the other acting party. With the package left behind in the dust all is well, except cantankerous Jayne still wants to get paid and has snuck the device onto the ship. Unbeknownst to any of them, this is a psychological weapon that makes all your dreams come true and then turns them into nightmares.
Firefly is a sorely missed television show and its few brief episodes promised so much. With a feature film, graphic novels and tie in novels its legacy has continued. James Lovegrove has been given the reigns and he has proven in the earlier Firefly: The Magnificent Nine, that he is well up to the job. Unlike the likes of Star Trek or Star Wars, the room to manoeuvre in the Firefly timeline is a little limited – characters came and went relatively quickly. Firefly: The Ghost Machine sits in the months leading up to the film Serenity and lacks Shepard Book or Inara. This being science fiction means that although they may not be present on the ship, that does not mean they won't have an impact on the book.
Nine was a tie in novel that worked as a standalone sci fi book. Knowing the characters really helped, but it was a great action novel. Ghost Machine feels very different. Lovegrove still captures the series perfectly, his ear for dialogue and tone is excellent. The mix of Old West and Chinese slang is still present as is the character dynamics. It is here that the book concentrates. Whilst his previous book was action based, this one is character based.
The Ghost Machine itself puts its victims into a sort of coma. They dream their perfect life. This is a great tool to explore 'what if' scenarios that the show never had time to explore. Mal finds himself happily married with children, whilst Jayne returns to his homestead to find his brother cured and a family that needs him. All the characters appear off The Firefly and this allows Lovegrove to explore their ideas of perfection. And it turns out, their hell.
The book is certainly fan service. If you are a big fan of the show and the characters you get to explore new areas of their personality. They are free from the shackles of their real life and can indulge in what they truly wish for. Action fans are a little less catered for, but it is present. Especially when the dreams begin to shatter. There is the inherent problem with dream sequences that it just does not feel as real and threatening as when characters are awake. Lovegrove goes some way to solve this by having the ship hurtling towards a planet with no one awake to stop it, but the book is certainly more introverted than the fun antics of Nine.
Like any intellectual property that is expected to go the distance, it must be multifaceted. Firefly as a universe can be action filled or character driven. Ghost Machine is certainly the latter as the book takes place mostly in the minds of the crew. Fans will enjoy the dynamics; why do some characters who are together in real life dream of very different alternative lives? People new to the series will struggle as having a base understanding of who fancies who is vital. As it is a book prominently designed for those fans, this is no issue. However, if you are new to Firefly I would suggest picking up Nine initially as it is an easier entry point. Better still watch the TV series, there are only 14 episodes to binge watch and they are excellent.
Check our a blog post Adventures in Oater Space that James Lovegrove has written for SFBook Reviews all about how the spirit of the Old West has been depicted in science fiction.
You may also like