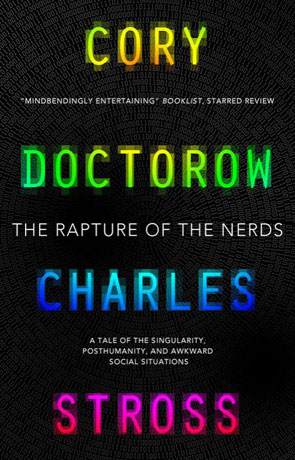 Book details
The Rapture of the Nerds

Publisher:

ISBN:

9781781167441

Published:

April 2013

Pages:

336

Format reviewed:

Paperback

Review date:

19/04/2013

Language:

English

Age Range:

N/A
About the author
Towards the end of the 21st Century Earth appears as a very different place, a post-singularity existence and a fractured future of a billion earthbound souls, preserved at the bottom of a gravity well.
Huw is a technophobe and somewhat of a misanthropist - a natural selection for the Tech Jury Service. The Jury Service of the late 21st century being one that rules on whether a stray piece of technology downloaded from the godlike "cloud" that surrounds the planet can be permitted on Earth.
Despite an incredibly itchy, annoying technovirus and the apathy of the proletariat it's a task Huw does his best to perform and it's one that will take him to meet dangerous people, even more dangerous technology and some truly awful moments on bathroom floors.
Two of the leading stars of science fiction; Charles Stross and Cory Doctorow make an impressive team, a collaboration that seems unlikely but turns out to be a great fit (a bit like peanut butter and chocolate) full to the brim with ideas, pushing the boundries with a modern interpretation of the Singularity and yet with a great deal of humour.
The Rapture of the Nerds feels almost like a 21st century Rob Grant novel, there is the same kooky sense of humor that manages to poke fun at the things we take for granted and the idiocy of invention without seeming to be condescending or sarcastic. I can imagine that people will make comparisons to Douglas Adams however for me it's much more in the Grant / Ben Elton camp. It does go to show how much we need more novels in the science fiction comedy genre.
Cory Doctorow is always ahead of current technology, he seems to have an innate ability to see one step ahead of current trends; a futurism that feels intimately connected with the technology we are using right now. The Rapture of the Nerds is no exception, although the novel describes the late 21st century and is "post-singularity" - some of the technology is as you would expect quite "far-future" - it's all described in a way that we can relate to and makes some considerably astute predictions about the direction our current technology could go.
The decision to make the novel a comedy is perfectly suited to the subject matter and helps to cement the connection between the two authors writing styles. The writing is tight with a clear voice (or in this case voices) and even more inventive that I would have imagined - brimming with ideas and all pushed into a pretty much break-neck pace that is almost relentless.
It's very much a 21st century novel in just about every respect, a future that pretty much leaves gender behind - given the technology to swap between male and female at will. There are the predicable religious fanatics who STILL go on about the "rapture", although here there are comparisons with "uploading" to the god-cloud. This cloud has a great deal of metaphorical allusions to a "hive-mind" construct, mirrored by the "super-ant" colonies that have spread through the USA and seem pretty much unstoppable. Then there are holographic djinn, clones and AI constructs - and that's just the start.
There are also some fantastic "in-jokes" for fans of science fiction legends such as Douglas Adams, Kurt Vonnegut and of course William Gibson - incredible touches that really add to the likeability of the book.
With all this going on it probably comes as no surprise that you have to give this book your utmost attention, start to drift and you will lose the thread faster than a £10 note fluttering down a busy Glasgow street.
The authors should be applauded having managed to cram so much into this book and still make it all into a cohesive and engaging, genuinely funny story with interesting characters and a rewarding finale. It must be said though that it is a close call and there are a few times that it nearly all unravels but credit where it's due it doesn't and the result is something that is pretty spectacular, if a little unforgiving.
Rapture of the Nerds by Cory Doctorow and Charles Stross is out now, published by Titan Books, £7.99. This review was posted as part of the Rapture of the Nerds Mind-bending Blog Tour. For more details visit: Rapture of the Nerds Mind Bending Blog Tour.
We've also been lucky enough to interview both the authors about this collaboration, which you can read here: Interview with Charles Stross & Cory Doctorow
The Rapture of the Nerds is peppered with references to pop-culture staples (The Matrix, Doctor Who, The Hitchhiker's Guide to the Galaxy amongst others). To be in with a chance of winning a SIGNED copy of Rapture of the Nerds tweet the fictional piece of technology that you would most want let loose in the real world to @doctorow @csross @titanbooks with the hashtag #RaptureoftheNerds.
The co-authors will vote for their favourite fifteen pieces of tech and each top tweeter will be sentenced to a free copy. The Jury is still out. Good luck.
Written on 19th April 2013 by Ant .
You may also like