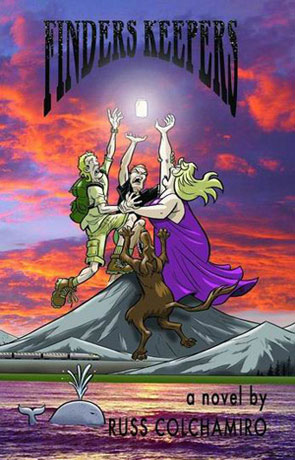 Book details
Finders Keepers

Publisher:

ISBN:

Published:

2010

Pages:

301

Format reviewed:

Paperback

Review date:

30/01/2011

Language:

English

Age Range:

N/A
Finders Keepers is a comedy scifi novel and the debut of Russ Colchamiro.

On a backpacking trip through Europe, Jason Medley and Theo Barnes stumble through hash bars and hangovers; religious zealots and stalkers; food poisoning and thunderstorms; cute girls; overnight trains; fever pitch hallucinations - and the spectre of adult responsibility.

But when a jar containing the Universe's DNA falls from Eternity, these new friends find their loyalties put to the test... unaware that a motley crew from another realm is chasing them across the globe, with the fate of the Milky Way in the balance.

Finders Keepers is a crazy roller-coaster ride of a novel that doesn't take anything too seriously. It's got plenty of off the wall ideas that create a rich blend fantasy and scifi genres. In part's it feels slightly like "The Hitchhikers Guide" series, in others a twisted version of "Rough Guides" and elsewhere like nothing else I've read before. Some of the ideas really work very well, others don't quite work but all of them are pretty original and the humour is well placed.

I found the characterisation a little on the wooden side, while the running humour is used to great effect with most of the protagonists they don't really become fleshed out until later in the novel, and end up feeling a little two dimensional for much of the novel. There are a number of plot lines running through the book, the crossover between each is handled well and you never loose track and the convergent parts do nicely coalesce to form a strong finale. The pace is in most places fairly energetic but it is a little uneven, there are a few slow moments which do derail the reader somewhat, with some good editing I think this could be much improved.

One thing the novel does have is a very distinct voice, the author has managed to find his own unique style and for the most part it works really well. There are also some really good use of real world locations and at last we get to find out what really happened to the dinosaurs.

If I was to sum up the novel in one word I would have to say "random", there are some great touches and genuinely funny scenes but also some quite raw dialogue in a few places and a lack of effective characterisation. Overall it's a good read for anyone who doesn't take life too seriously.
Written on 30th January 2011 by Ant .
You may also like