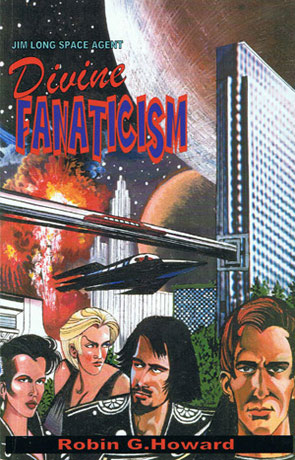 Book details
Divine Fanaticism

Publisher:

ISBN:

Published:

November 2010

Pages:

320

Format reviewed:

Paperback

Review date:

03/10/2010

Language:

English

Age Range:

N/A
Divine Fanaticism is the fourth novel in the Jim Long series by Robin G Howard.

Long ago on the planet Thraeot a religous order was created that was shrouded in miraculous mythology, now the political environment of the planet has become unbalanced and mass scale war appears imminent. To make matters worse, a leading religous faction have managed to create a mobile atomic bomb and appear dedicated to the complete domination of the planet.

The Galactic Police Federation have no choice but to send the intrepid Jim Long and crew disguised as they try and find these religeous leaders. With the lives of over ten million city dwellers at stake, Jim must stop the fantics from releasing the backpack atomic bomb. To complicate matters further is the discovery of a 3000 year old spaceship, giving rise to more questions than answers.

Divine Fanaticism is an easy, enjoyable book to read. Told in an uncomplicated style that should engage both young and old, the pace is fast and the humour very prevalent. There are a great deal of ideas explored in the book, with of course the main theme of religious fanaticism running throughout. The principle protagonist Jim Long is a very interesting and larger than life character and along with others keep the novel from becoming too serious. Although this is the fourth novel in the Jim Long series, it's not necessary to have read any of the previous novels and the book works very well as a stand alone story.

Overall Divine Fanaticism is fun and refreshing, the story easygoing and the heavy religious subject matters are very much tongue in cheek, the story has a very strong sense of the classic pulp science fiction novels of the mid 20th century. A pleasant book to read and one that should appeal to all ages.
Written on 3rd October 2010 by Ant .
You may also like