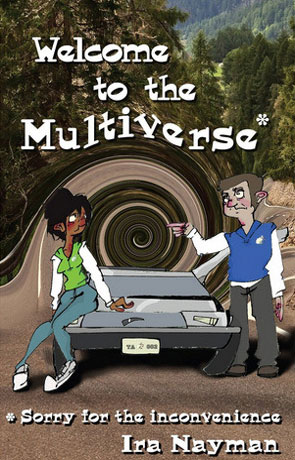 Book details
Welcome to the Multiverse

Publisher:

ISBN:

9781908168092

Published:

March 2013

Pages:

336

Format reviewed:

Paperback

Review date:

24/05/2013

Language:

English

Age Range:

N/A
About the author
Noomi Rapier is a rookie investigator with the Transdimensional Authority, a force who police the travel between dimensions. When Noomi and her partner "Crash" Chumley find a dead body slumped over an altered transdimensional machine in one of the many dimensions they patrol, they must discover not just who were the accomplices but what they were doing with the technology.
You wait ages for a good science fiction comedy novel and then two come along within the space of a month, this time it's the genuinely funny Canadian Ira Nayman who brings us his feature novel Welcome to the Multiverse* (*sorry for the inconvenience) which is set within the same trans-dimensional world as his Alternate Reality News Service.
The comedy within in quite surreal and very much off-the-wall, described by the author as "fractal humour" which I think fits the bill quite well. There simply isn't a serious moment in the whole book, which provides a satire on subjects including fate and ambition (amongst others), some of the humour is seriously laugh-out-loud funny and the whole story feels like the love child of Robert Rankin and Douglas Adams.
The pace is set just about right while the actual plot is very clever with plenty of twists and turns along the way, providing an irresistible hook which is further highlighted by well written protagonists. I loved the way that the author describes the subtle (and occasionally not so subtle) changes between alternate realities - an excellent introspection about just how different peoples lives can turn out with just the smallest of changes in circumstance. The prose is intelligently written in a confident and quite unique voice which engages and disarms in equal measure.
Welcome to the Multiverse is a cracking read that almost had me in stitches, fresh and original humour from a comedy genius.
Written on 24th May 2013 by Ant .
You may also like