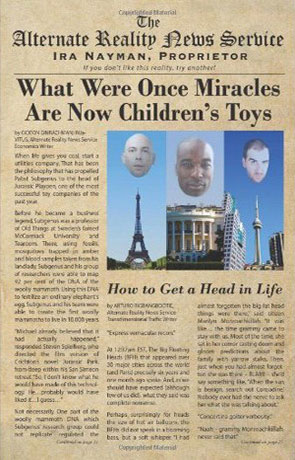 Book details
What were once Miracles are now Children's Toys

Publisher:

ISBN:

Published:

February 2010

Pages:

250

Format reviewed:

Paperback

Review date:

01/03/2010

Language:

English
About the author
What were once Miracles are now Children's Toys by Ira Nayman is a collection of news stories from alternate realities, as told by the intrepid reporters from the Alternate Reality News Service and is the second volume in the collection. The Author Ira Nayman is the recent winner of the "2010 Swift Satire Competition".

These Alternate reality news reporters strive to bring the most interesting, informative and just plain crazy news stories that exist out there in the vast unending multi-verse. As with the previous volume (Alternate reality ain't what it used to be) the book is divided into categories, including alternate technology, alternate death, alternate politics and alternate arts and culture (amongst others). New to this volume is interludes between the chapters which describes a seven part story called "the weight of information".

The news stories themselves range from the very funny "the truth will ouch" by a freelance psychologist and bounty hunter, "war does not compute" which finds war robots draft dodging to the too close for comfort and "china repossess the USA" when china calls in it's biggest debtor by repossessing it's whole military force in lieu of payment.

There is such a deadpan, realistic feel to the stories that really grabs your interest while the stories have intelligence, wit and political astuteness. Anyone with even a shred of a sense of humour should pick up this book.

The Alternate Reality News service even have their own facebook area where you can ask questions, seek advice with Ask Amritsar and Ask the Tech Answer Guy (very funny for any IT guys or gals out there) and even climb the corporate ladder and have your own news beat.
Written on 1st March 2010 by Ant .
You may also like