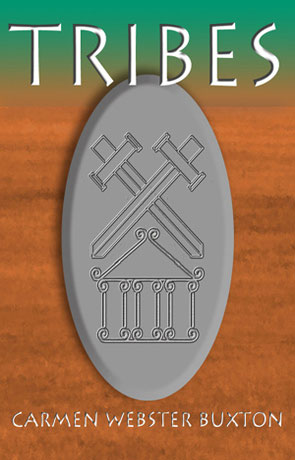 Book details
Tribes

Publisher:

ISBN:

Published:

August 2011

Pages:

Format reviewed:

E Book

Review date:

29/02/2012

Language:

English

Age Range:

N/A
About the author
Hob is a slave, abandoned as a baby to be brought up with no hope of freedom or any chance of a normal life. On the world of Tribes any male babies born without a father figure to welcome him into his tribe becomes enslaved.

Eventually Hob manages to escape and is rescued by a woman from a fighting tribe who offers shelter at her father's house and a glimpse at what normal life is like. While Jahnsi and her father and brother plot to keep Hob free, Hob himself is torn between his desire to flee into the wilderness and his growing attraction to Jahnsi.

Hob it seems is more popular than he ever imagined, while he is being treated by his new friends, his previous owner hasn't given up the hunt, determined to get his property back. At the same time an off-word woman arrives and begins a manhunt for a specific slave. The question is, which one will find Hob first?

Tribes is a very interesting novel, for a start the characterisation is excellent and the narrative feels so friendly and natural that you can't help but get drawn into Hob's plight. I loved this warm and welcoming feeling and this combines with an interesting story that isn't rushed, overtly violent or aggressive.

The author makes excellent use of a gender role reversal on the planet where the Tribes plays out. For the most part women are the more dominant sex, going out to fight and often treating men as little more than sex objects. This goes as far as men that have been outcast from a tribe or orphaned become slaves and are often forced into prostitution. It's a powerful message and one that works even better being highlighted from the opposite view point.

There is also a very intriguing political setup with each Tribe almost treated as a separate race and each person proudly wears their tribal badge denoting which Tribes they belong to.

It's the characters that really make this novel shine though and each one has a wonderful personality that works perfectly within the confines of the story. You really do feel for Hob and his mistreatment and sharing his journey through the novel is something quite special.

I have already reviewed a few of the authors previous works and I do recall them favorably however this novel is by and far the very best the author has written with some fantastic ideas, well placed themes and some very effective execution. Above all this though is the fact that Tribes is just so easy and pleasant to read, highly recommended.
Written on 29th February 2012 by Ant .
You may also like