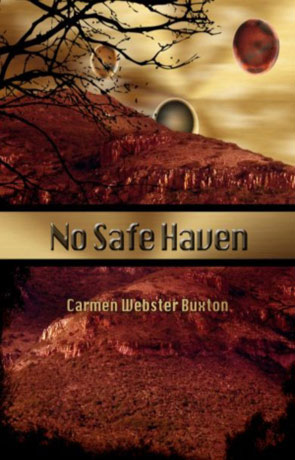 Book details
No Safe Haven

Publisher:

ISBN:

Published:

April 2011

Pages:

Format reviewed:

E Book

Review date:

17/10/2011

Language:

English

Age Range:

N/A
About the author
No Safe Haven is the direct sequel to The Sixth Discipline and follows the fortunes of Ran-Del and Francesca who are now happily married parents. Ran-Del still doesn't know what vision his clan shaman had which forced him from his tribe however his own little known "psy" abilities have helped him to settle into life in the city.

Not all is as peaceful as it seems however and outside the city high up in the mountains the fierce fighting tribes of the Horde have put aside their differences and become a serious threat to the city, it's people and even the family of Ran-Del.

The story picks up around nine years after the events of The Sixth Discipline and it's recommended you read that novel first as there is only a limited amount of back history. We continue to watch the main characters of Ran-Del and Francesca grow and develop their family and learn more about the worlds they inhabit, including the third group of people known as the Horde. There is quite a strong emphasis on family in the novel and this is actually accomplished very well, I found I could relate to quite a few of the different aspects that were presented.

The clean, simplistic narrative style is still present, however I did still find the characterisation lacked warmth and emotional impact, as a result I again found it difficult to really bond with the characters. The plot itself is quite inventive though and we get a multi-threaded approach this time in the form of Feddie Leong, an ex-lover of Francesca's and I really enjoyed the intrigue and suspense of this plot-line.

Although not as prevailent as in the previous book, the convergence of technologies still proved very effective and remains one of the strongest elements to the story. I also found the ending to be quite compelling and wraps things up much better than I thought it would.

If you liked The Sixth Discipline then you will love this, an imaginative and interesting mix of fantasy against a science fiction backdrop.
Written on 17th October 2011 by Ant .
You may also like