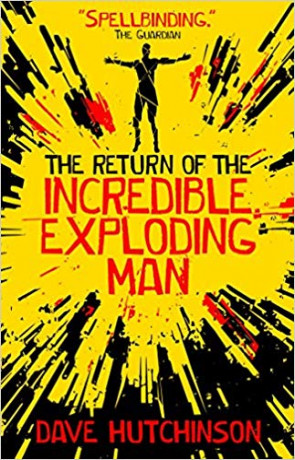 Book details
The Return of the Incredible Exploding Man

Publisher:

ISBN:

978-1781085844

Published:

September 2019

Pages:

336

Format reviewed:

E-Book

Review date:

02/10/2019

Language:

English
About the author
Failed science writer Alex Dolan is just floating along, struggling to find work when multi-billionaire Stanislaw Clayton provides a surprising, well-paid offer out of the blue. He wants Alex to write a book about the world's first privately funded high-energy physics facility - the Sioux Crossing Supercollider. The purpose of the collider is to provide research on the nature of gravity, hopefully with a view to improve space exploration. This $13 billion dollar project has however run into a series of high profile snags, and has been beset by delays. Clayton needs some positive PR spin and things a book could do just that.
It's a dream job but one that Alex seems to think sounds too good to be true. He is none-the-less reluctantly drawn into Clayton's world, moving to the small town of Sioux Crossing (a slice of small-town America partly re-built with Clayton money). On one of his book research visits, something with the collider goes wrong. As you can imagine, when something goes wrong with a machine designed to smash particles together at an incredibly high velocity and with a great deal of power, it's going to be a quite serious scale of wrong. Alex survives but finds himself changed in ways he could never have imagined and is thrust right into the middle of a disaster that threatens to destroy everything and everyone. Alex might be the only person in the world who can save the planet.
The return of the incredible exploding man (despite the gloriously pulpy name that reminds me of a 20th century dime novel) is a work of art. The writing is just superb, beginning with an unhurried exploration of Dolan and his failing life and then through to the strange little town of Sioux Crossing and the larger than life billionaire Clayton. Hutchinson takes the time to examine the mundane, everyday life of Dolan and those he connects to and it isn't till a good two thirds of the book at least before anything of a science fiction nature kicks off, although the signs do of course slowly build up to something happening. When it does though, it's a game changer and an effective counterpoint.
One of the things I liked most about this book, apart from the wonderful depiction of what happens to Dolan, is his outlook - a world-weary cynicism and self-deprecation that goes as far as resisting Clayton's quite generous offer, not because of the wariness but instead because after all the hardship he doesn't seem to think he deserves a break. He's living a life where likely more days are behind him than there are ahead and that can't help but change your perspective. It's an effective and thoughtful exploration.
Each time I read one of Hutchinson's (sometime award-winning) books I am reminded of his talent to tell a good story, in a unique voice. His writing is superb and on a par with anyone else writing right now. The return of the incredible exploding man is no exception. It's thoughtful, considered, different and as fine a tale as you would find anywhere.
Written on 2nd October 2019 by Ant .
You may also like