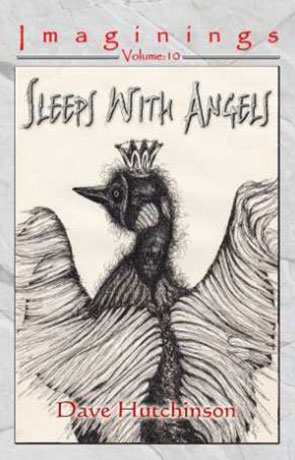 Book details
Sleeps with Angels

Publisher:

ISBN:

978-1907069796

Published:

April 2015

Pages:

160

Format reviewed:

E Book

Review date:

26/04/2015

Language:

English

Age Range:

15-
About the author
A collection of six short works all with author commentary as to their origins. As a writer I would characterise David Hutchinson as a storyteller first and foremost. Each of the pieces in this collection tick forwards continually without straying too far. The exposition is neatly added and delivered in slivers so as not to distract from the main points of the plot.
Each tale draws its fantasy and/or science fiction from different sources and never stoops into the obvious. We have dystopia, utopia, urban fantasy and more. Nanites as invokers of magical powers, a 'collider' (Hadron?) creating a singularity event, Elves banning the internet and Fairies covering up murders. Each context relates to our own through the domestic actions of the characters. Our viewpoints are always anchored with people we identify with and who at times, we discover, are extraordinary, or in the process of transforming their state in the story. Occasionally the rationalised conversation is used to set up the science fiction or fantasy premise, with room left for reader speculation.
A mention of the town I grew up in the opening of Sic Transit Gloria Mundi made me smile. It is a story that feels more like a starting point of a longer work than a complete entity and this feeling does colour the later works of the six a little bit.
The author commentary is a nice touch, giving context to the origin of each story and portraying that happenstance that sometimes occurs. Fate makes a strange path for every writer and it is nice to see how another individual is inspired by themes and plots their way through opportunities.
Sleeps with Angels is a varied and pleasant read. The pages turn quickly and the stories engage you with interesting themes. This is a good introduction to David Hutchinson's work and one you can revisit again without difficulty. He is currently shortlisted for the 2015 Clarke Award for Europe in Autumn, so this anthology is a way to sample his work or find more if you've already read the novel.
You may also like