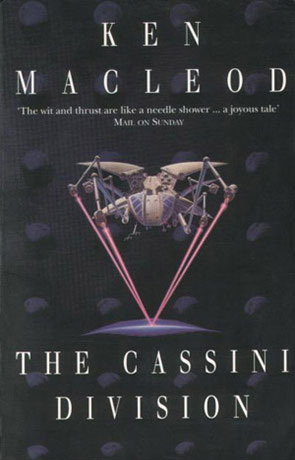 Book details
The Cassini Division

Series:

Fall Revolution Series

Publisher:

ISBN:

Published:

1998

Pages:

240

Format reviewed:

Paperback

Review date:

01/09/1999

Language:

English

Age Range:

N/A
Books in the series
About the author
The Cassini Division the third volume in the Fall Revolution series which began with the Star Fraction, written by Ken Mcleod.

My second read by Ken MacLeod (how do you pronounce that?). Humanity has come a long way since the Star Fraction and the struggles of Moh Kohn. Humanity has split into a post-human variety more resembling artificial intelligence machines living in and on Jupiter and a more (to us) normal variety. Okay, people do not age and just about everybody has turned socialistic anarchistic, but besides that they are pretty much as human as you and me. Ellen May Ngwethu (how do you pronounce that?) is quite human, a couple of hundred years old and a senior member of the Cassini Division. She's also a cold-hearted bitch, with absolutely no morals. The job of the Cassini Division is to protect the rest of (normal) humanity from the AI/post-humans on Jupiter. Ellen's job suddenly gets a lot more interesting when the Jovians suddenly wakes up from their slumber. Ellen is all for kicking them back to a more ...eh… basic versions of their basic particles before they get to frisky.

Besides being shorter than The Star Fraction and The Stone Canal, the Cassini Division is also a lot more straightforward. The story told is basically seen from Ellen's point of view and while Ellen's dilemma is no easy one, the story is still fairly straightforward. I can understand why The Cassini Division has been selected as the first MacLeod book for the American marked – it's definitely the easiest angle to approach MacLeods work from. Then again, maybe the publishers are underestimating the American readers.
Written on 1st September 1999 by TC .
You may also like